5 Best Cryptocurrency to Buy for the Weekend Recovery – February 2021 Week 2
The cryptocurrency market has had an up-and-down couple of days. Its total cap reached a nearly one-month high of $2.13 trillion yesterday, only to be shook by the news of record-high US inflation. It has now settled to $2.06 trillion, representing a fall of around 3% in the past 24 hours. Major coins such as bitcoin (BTC) and ethereum (ETH) are also down by comparable percentages. However, while it raises the spectre of interest-rate rises, high inflation may also increase demand for high-return assets such as cryptocurrencies. For this reason, we've put together a list of the 5 best cryptocurrency to buy for the weekend recovery. This covers coins with good short- and long-term potential.
5 Best Cryptocurrency to Buy for the Weekend Recovery
1. Lucky Block (LBLOCK)
LBLOCK is down by 8% in the past 24 hours, at $0.00423418. However, it set a new record high of $0.00748329 only a couple of hours ago, so it's one of the most active coins right now.
LBLOCK is also a whopping 879% up on its launch price, which was $0.00043244. Having become tradable on PancakeSwap only 15 days ago, it's rapidly gaining the attention of traders.
For those still unfamiliar with it, LBLOCK is the native token of the recently launched Lucky Block lottery platform. A BEP-20 token running on Binance Smart Chain, it can be used to enter Lucky Block lottery draws, with the first such draw taking place on March 25th, 2022.
After this date, Lucky Block will hold draws regularly. Ticket holders will have the chance to win 70% of each lottery's jackpot fund, while token holders who don't enter still gain an equal share of 10% of the same fund.
📢 Important announcement regarding @LBank_Exchange listing! 📢

Make sure you join our telegram and be first to know about future announcements! 🔥

👉 https://t.co/4MigxHlmDP pic.twitter.com/a0xM7tKQgM

— Lucky Block (@luckyblockcoin) February 7, 2022
Investors can currently trade LBLOCK on PancakeSwap and on the LBANK Exchange. More listings are planned for the near future, and with its price quickly rising in the past few days, it remains one of the 5 best cryptocurrency to buy for the weekend recovery.
2. Bitcoin (BTC)
Despite falling in the past 24 hours, BTC has had a good week overall. At $43,445, it's down by 2.4% in the past day, but up by 17% in the past week.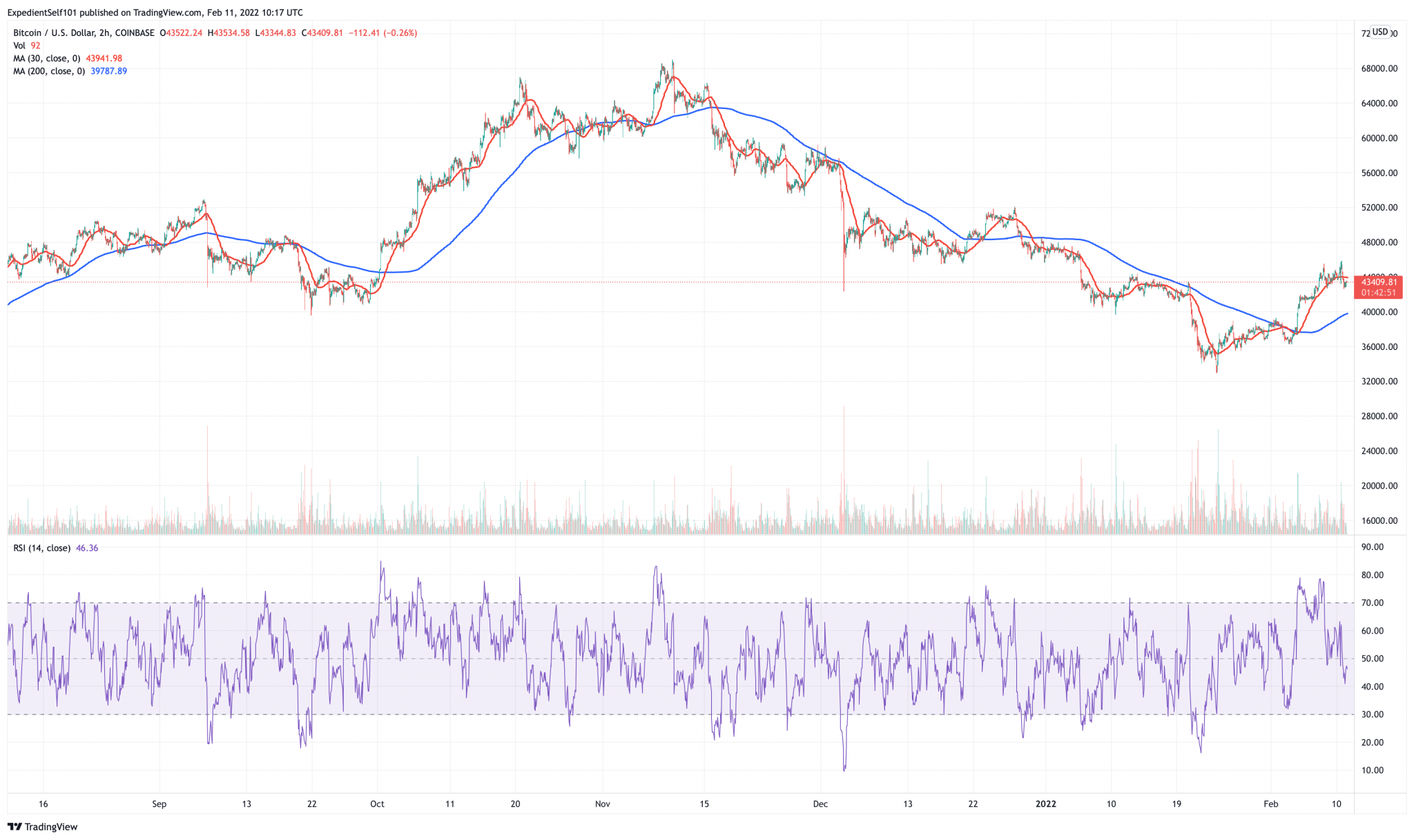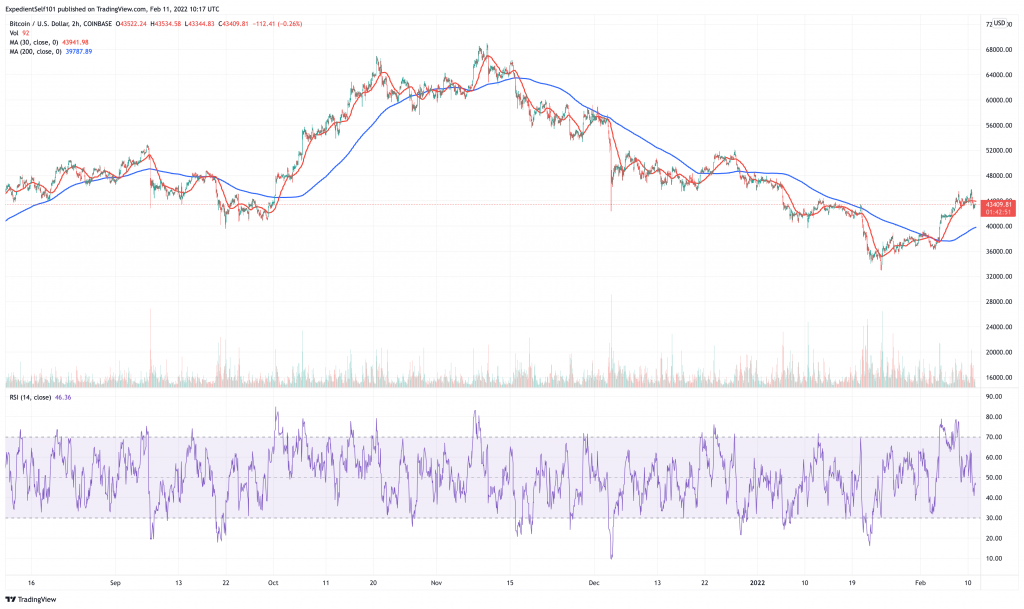 BTC's momentum remains promising, despite yesterday's small dip. Its relative strength index (in purple) had risen to almost 80 yesterday, but now hovers around 50. Its 30-day moving average (in red) is still above its 200-day average (in blue), suggesting that it could still be on a medium-term upswing.
A bigger recovery for bitcoin is more or less inevitable, since the market doesn't move without BTC moving first. It remains the biggest cryptocurrency by market cap for a reason, with institutions (including national treasuries) currently own some 1.5 million BTC, equal to around $57.8 billion.
Such investment has been driven by the growing narrative surrounding BTC. Bloomberg analyst Mike McGlone, to take one of the more bullish examples, continues to argue that BTC will eat into an increasing share of gold's store-of-value market. This is largely because of its limited supply, which should help push the price of BTC up to $100,000 in the not-too distant future.
Bullish #Bitcoin fundamentals — limited supply vs. increasing demand and adoption — are juxtaposed with the unlimited amount and ease-of-entry of other crypto-assets, with implications for prices. The roughly 17,000 so-called crypto currencies listed on Coinmarketcap pic.twitter.com/UHF9f7ZADB

— Mike McGlone (@mikemcglone11) January 25, 2022
The most recent piece of news concerning BTC is the US Department of Justice's seizure of around 94,000 BTC. Initially stolen as part of the 2016 Bitfinex hack, this seizure is arguably very bullish for Bitcoin and crypto. Why? Because it shows that cryptocurrencies such as BTC aren't really the safe haven for criminals and money launderers they're usually made out to be.
The Bitfinex hack recovery is actually medium term bullish for crypto. The bad guys lost their coins. It's why 3 letter agencies are learning to like $BTC. It's a good day for the crypto security companies.

— Mike Novogratz (@novogratz) February 8, 2022
3. Ethereum (ETH)
At $3,093, ETH is down by 5% in the past 24 hours. It is, however, up by 16% in the past week and by 28% in the past fortnight.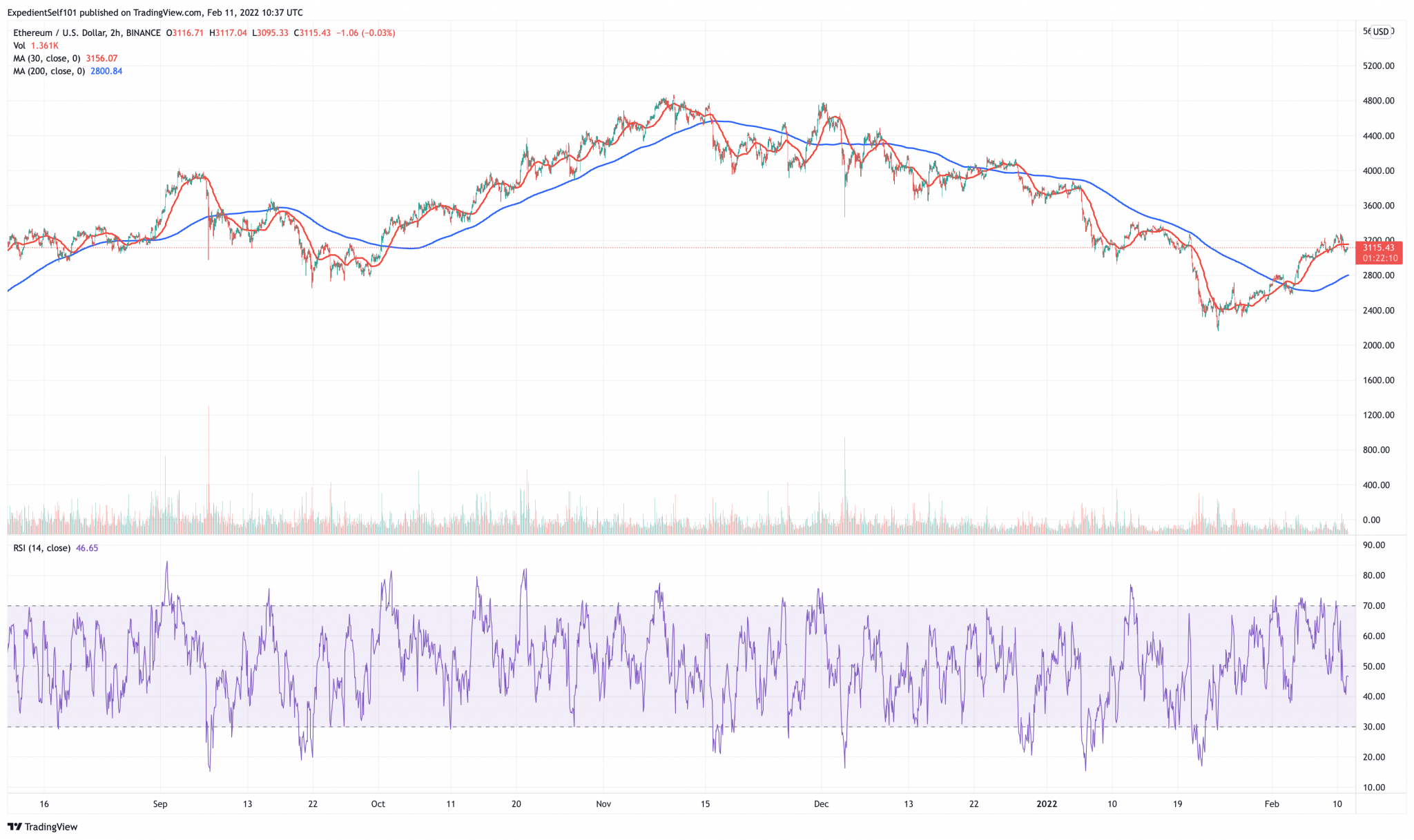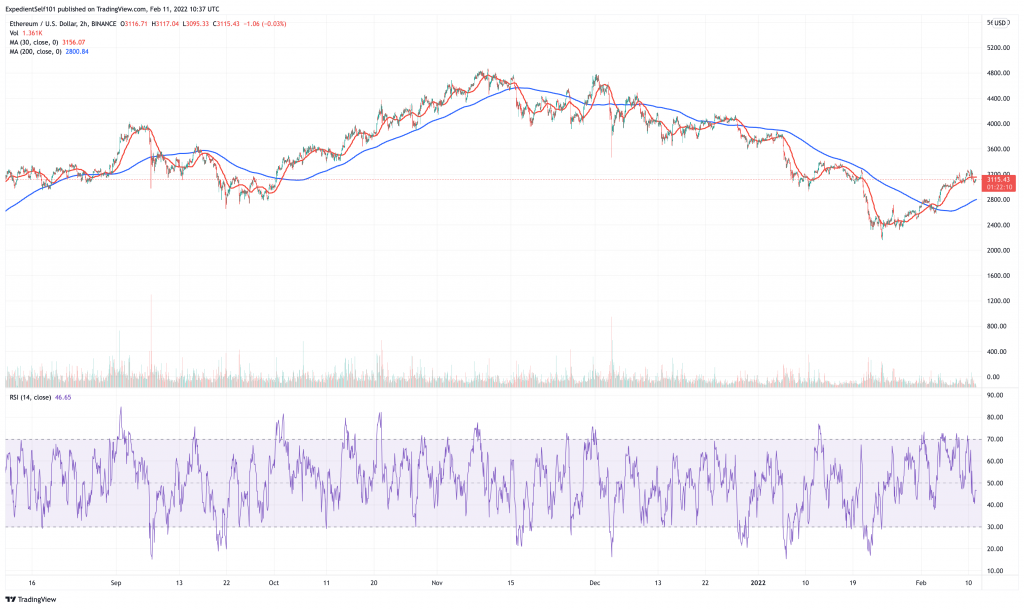 ETH's technicals are much like bitcoin's. Its 30-day average remains above its 200-day, so it may still have some momentum left over for the weekend. That said, its RSI has climbed down from 70, although its most recent movement in the past couple of hours has been upwards.
As Ethereum's native token, ETH probably has the best fundamentals in the market (apart from BTC, arguably). Ethereum currently boasts $123.65 billion in total value locked in, which equals about 60% of the entire DeFi sector.

Ethereum is also planning a shift this year to a proof-of-stake consensus mechanism. This will impose constraints on the supply of ETH, and combined with last year's introduction of fee burning, it could make ETH significantly deflationary in the future. This would be great for existing holders who entered early.
3/ Luckily, the Merge will drop the $ETH issuance to a measly 0.5m ETH/yr.

So what you are about to witness is a 90%+ issuance reduction, a whooping 5 million $ETH which is permanently stopped from being sold into the open market every single year.

A supply shock crisis.

— dshin.eth 🦇🔊 (@dshin_eth) January 5, 2022
Proof-of-stake will also make Ethereum more scalable as a blockchain, and should increase its dominance of the DeFi sector. This is another reason why ETH is one of our 5 best cryptocurrency to buy for a weekend rally.
4. Theta Network (THETA)
THETA is up by 14% in the past 24 hours. At $4.18, it's also up by 49% in the past week.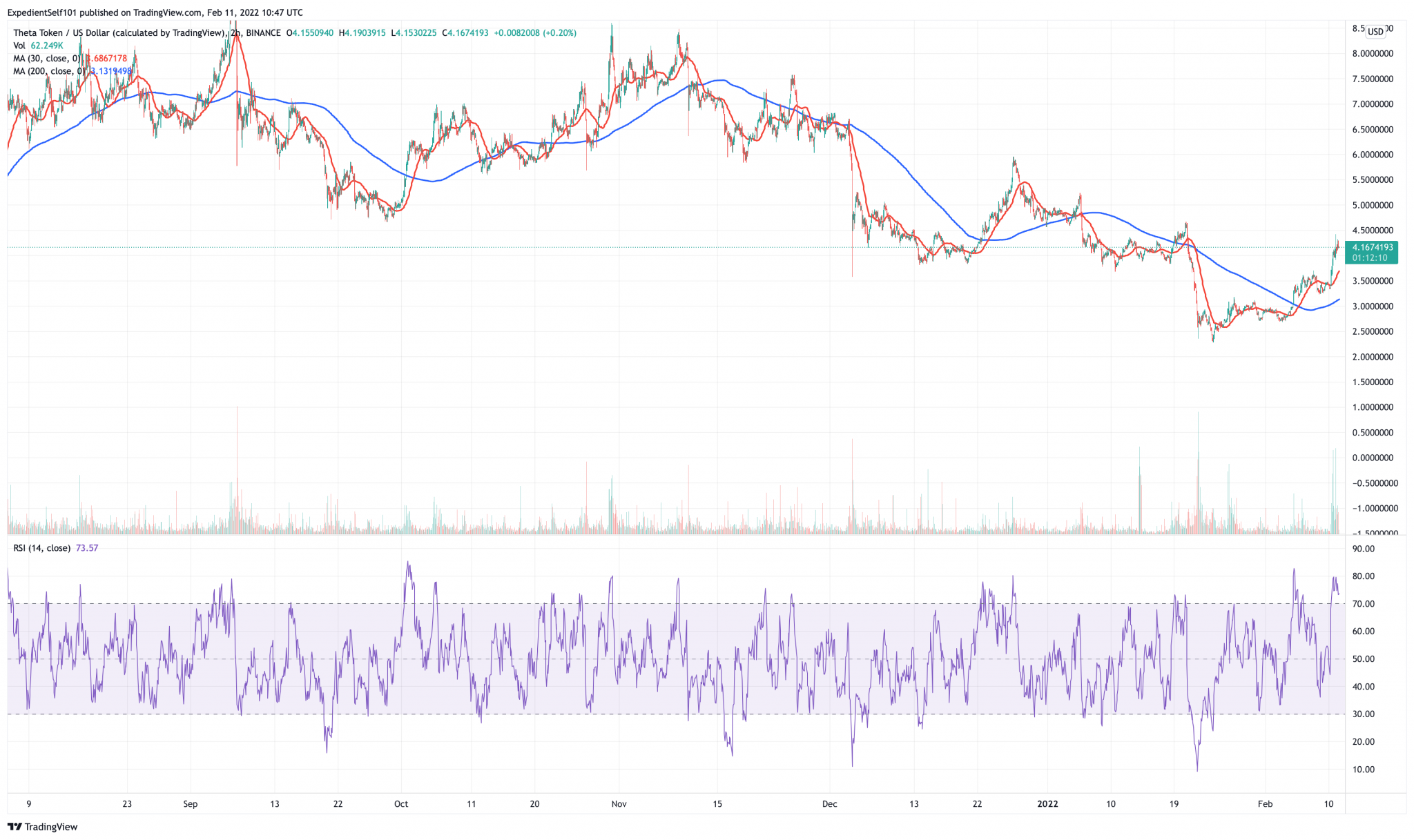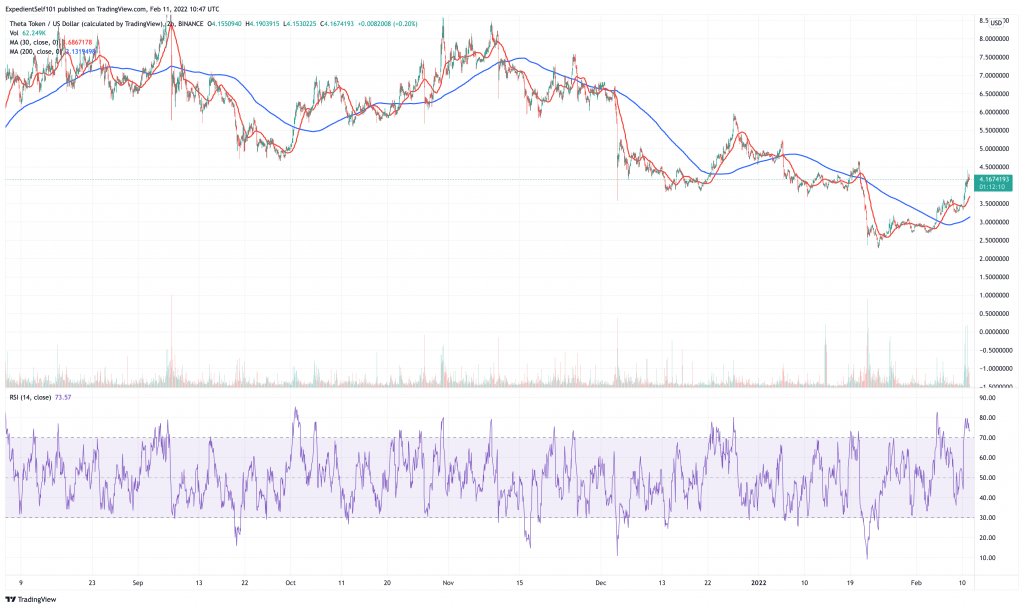 THETA's technical indicators show some very strong momentum. Its RSI has shot above 70, indicating that a big rally is underway. This is reinforced by its 30-day average which passed its 200-day a couple of days and is nearly vertical.
A decentralized video-streaming network, Theta Network's THETA token started rallying after the launch of Replay. Replay is a licensing platform for videos, and is shaping up to be one of the key ingredients in the growth of Web3.
Thrilled to come out of stealth backed by @Theta_Network to #decentralize video licensing. An industry-first #Web3 content payment and tracking protocol, using the #blockchain to reimagine how content creators are paid. https://t.co/DvBuyiC65R

— Replay (@ImagineReplay) February 10, 2022
More generally, Theta Network continues to grow and announce new partnerships. Its total value locked in is $228 million, which is very robust for a video platform. It also launched a new TDROP token at the start of this month, which is used to reward NFT liquidity mining on the ThetaDrop NFT marketplace.
TDROP transfers and staking are now enabled in the new Theta Web Wallet update! Staking works the same as on iOS and Android mobile wallets. If you are staking from Ledger or Trezor, there will be 2 txs to approve – check the step by step guide here:https://t.co/3kE3czy1X3 pic.twitter.com/8r6LZIf36Z

— Theta Network (@Theta_Network) February 1, 2022
5. Ripple (XRP)
XRP is down by 7.5% in the past day, falling to $0.822438. On the other hand, it's up by 35% in the past week and by 6% in the past month.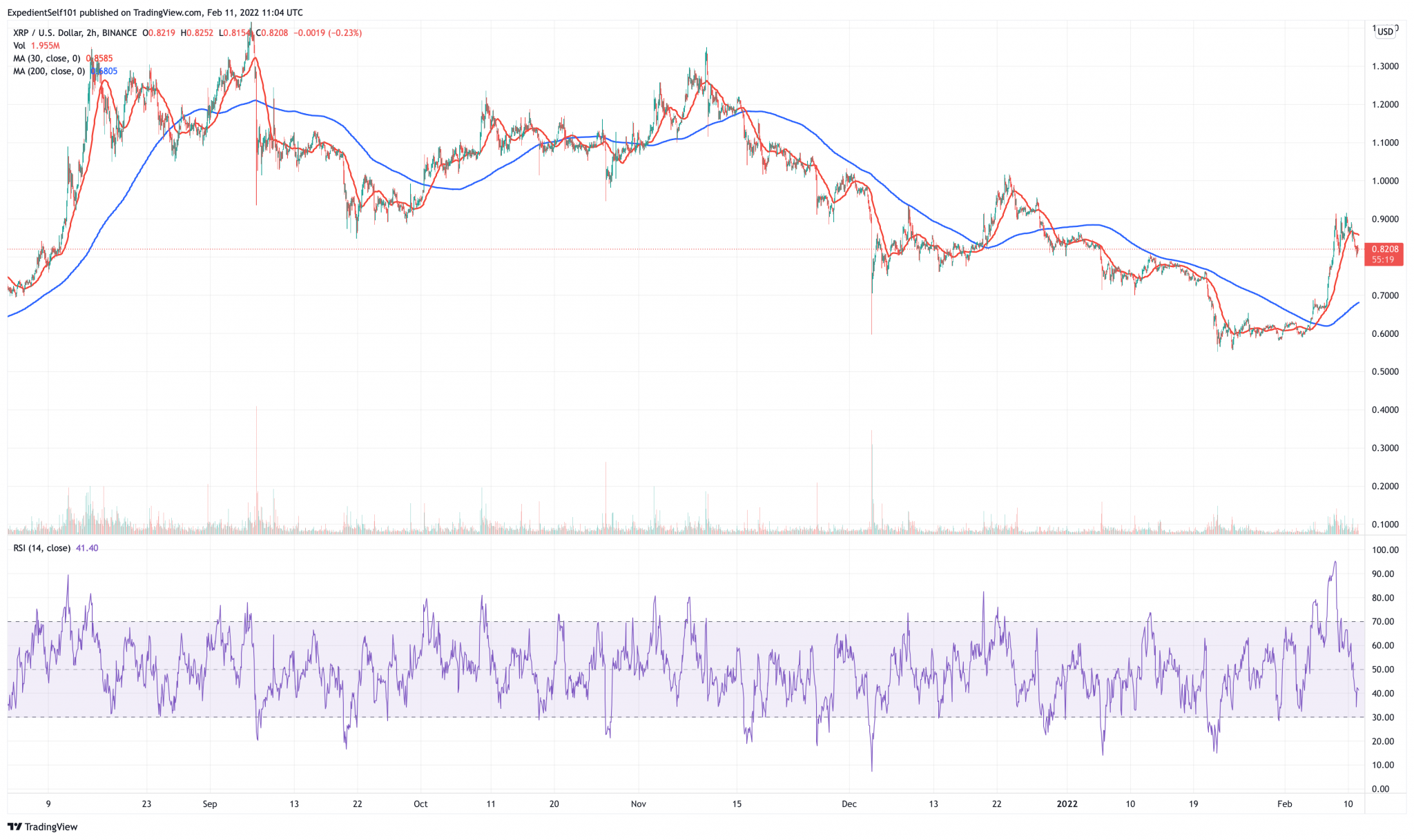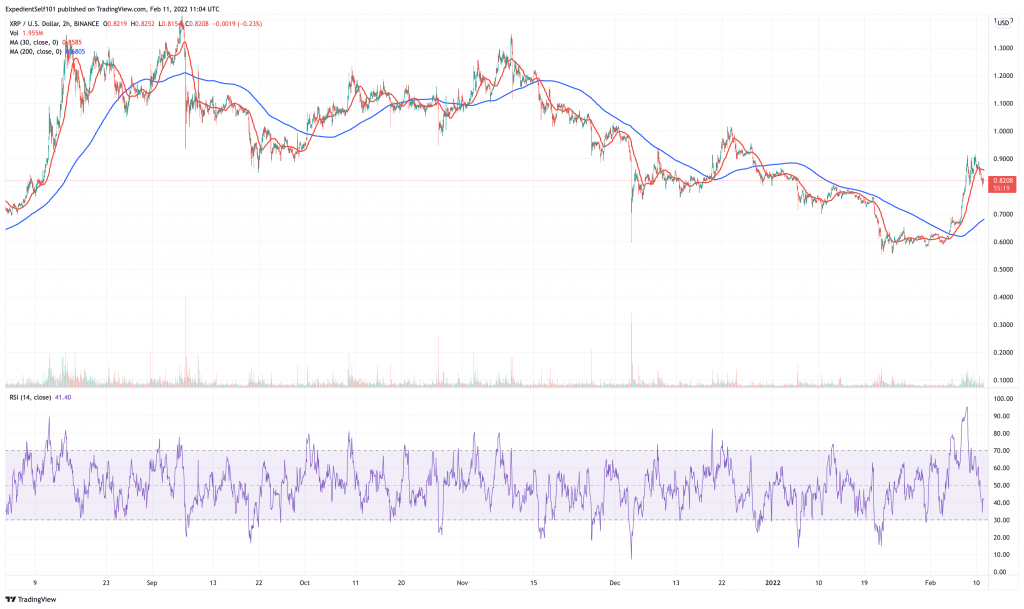 XRP has also come down hard after a couple of days rallying. However, its 30-day average remains above its 200-day, so it could still be on a medium-term uptrend.
Looking at the bigger picture, XRP could end up having a very strong 2022. Of course, this depends on the outcome of Ripple's legal battle with the SEC, but Ripple remains confident it will secure a favourable outcome. For instance, it recently bought back its own shares at a valuation of $15bn, which it had sold in its 2019 Series C round. This suggests it's planning to hold an initial public offering once the case is resolved, something CEO Brad Garlinghouse has alluded to previously.
Excited to announce @Ripple bought back our Series C (Dec 2019) shares at a $15B valuation! 1/4

— Brad Garlinghouse (@bgarlinghouse) January 26, 2022
It's also encouraging to note that the wider cryptocurrency community seems convinced that Ripple emerge unscathed from its case with the SEC. This is largely because evidence continues to emerge which makes the SEC's case look weaker, including a video in which former SEC chair Jay Clayton appears to describe as SEC policy the view that ethereum is not a security.
The SEC case against Ripple is over.

👇🏼 https://t.co/pBxyTdVuIv

— Ryan Selkis 📖 🖊🔑 (@twobitidiot) January 25, 2022
However, with the discovery period not likely to end until March, investors will have to wait a while longer for their payoff. But when it comes, XRP is likely to jump bigly. This is why it's one of our 5 best cryptocurrency to buy for the weekend recovery.
There's no silver lining in this ruling granting the SEC extensions of time – even if the order on the Motion for Reconsideration is eventually upheld.

Now discovery won't conclude until March at the earliest.

This case is like watching Yoda's death scene over and over and over https://t.co/D2irtYZYj2 pic.twitter.com/wWvMu55E6e

— Jeremy Hogan (@attorneyjeremy1) January 24, 2022
Capital at risk
Read more: