Shiba Inu Up by 22%: Here's What You Need to Know
After going through a severe price decline in 2022, interest in the meme cryptocurrency Shiba Inu (SHIB) is registering an increased capital inflow. This has driven the token to rank as the 12th largest digital asset by market value, pushing it ahead of Avalanche (AVAX).
The recovery of SHIB has been shown to coincide with advances made across the board in the cryptocurrency market, is headed by large-cap assets like Bitcoin (BTC) and Ethereum (ETH). According to statistics provided by CoinMarketCap, as of August 14, SHIB's market capitalization has reached $8.49 billion, representing a growth of $1.53 billion from its previous value of $6.96 billionduring the course of the previous day.
In other news, the pattern of capital inflow is mirrored in the price of SHIB, which has extended its winning run to a fifth consecutive week and is currently riding a wave of bullish momentum. At the time of publication, the token was trading at $0.0000155, representing a gain of almost 22% over the past couple of hours.
Buy Shiba Inu Now
SHIB's Gains Parallel to the Market
Notably, after a weak first half of 2022, SHIB exhibited indications of recovery that began in July. The gains corresponded with the general market, which has been trading in the green zone in recent weeks.
This was a notable development considering that it occurred after SHIB had a poor first half of 2022. Historically speaking, it is common knowledge that alternative cryptocurrencies will follow the patterns that are formed by large-cap assets such as Bitcoin.
During the early trading hours of August 14, Bitcoin crossed the threshold of $25,000 for the first time since the middle of June, which influenced the market.
It is important to note that the expansion of the SHIB network has set the currency up for gains, despite the fact that SHIB profits depend in part on the broader market. The token has made an effort to get back to the highs it reached in 2021 by increasing its networkactivity, which is said to make the currency more desirable.
Rolling out token burns in an effort to increase its popularity has been the primary emphasis of the development community. In addition, the launch of ShibaSwap in 2021 was anticipated to be a significant factor in determining the value of SHIB in the months ahead.
Investors' Keen Interest in Memecoins
In addition, as a result of the fall in the market, meme currencies, in general, appear to have lost their allure among investors. The absence of meaningful use cases is mentioned as a primary explanation for this phenomenon.
Notably, the lack of interest was brought to light by data from Google Trends that showed that over the past year, global search queries for the keyword 'Shiba Inu' dropped to the lowest point in over a year during the month of July. This was the first time that this particular point had been reached in over a year.
It is interesting to note that the volume of transactions on the network seems to be unaffected by the precipitous drop in price. According to Finbold, the number of transactions with meme currency increased by 34% in July, reaching 211,833.
This is a significant increase from the 15-month low value of 157,889 that was recorded in June. In addition, Shiba Inu, like other meme-based cryptocurrencies, has a reputation for producing big gains for early investors.
Keeping this factor in mind, a number of investors have chosen to maintain their wagers on the asset in spite of the market slump. An increase in interest in the decentralized financing (DeFi) asset led to the addition of more than 20,000 new investors in SHIB during the months of June and July, according to research by Finbold.
Which Other Memecoins Should You Consider Investing in?
As was previously indicated, Shiba Inu is outperforming the market, which may be attributable to the beta release of the company's Shiba Eternity game. Play-to-earn (P2E) crypto games are extremely popular among crypto investors as well as gamers.
Tamadoge, which has already moved on to the next phases of its presale and has secured $3.5 million in the first seed round investment, is another cryptocurrency that is drawing a lot of attention from investors and has already sold out of its beta sale early.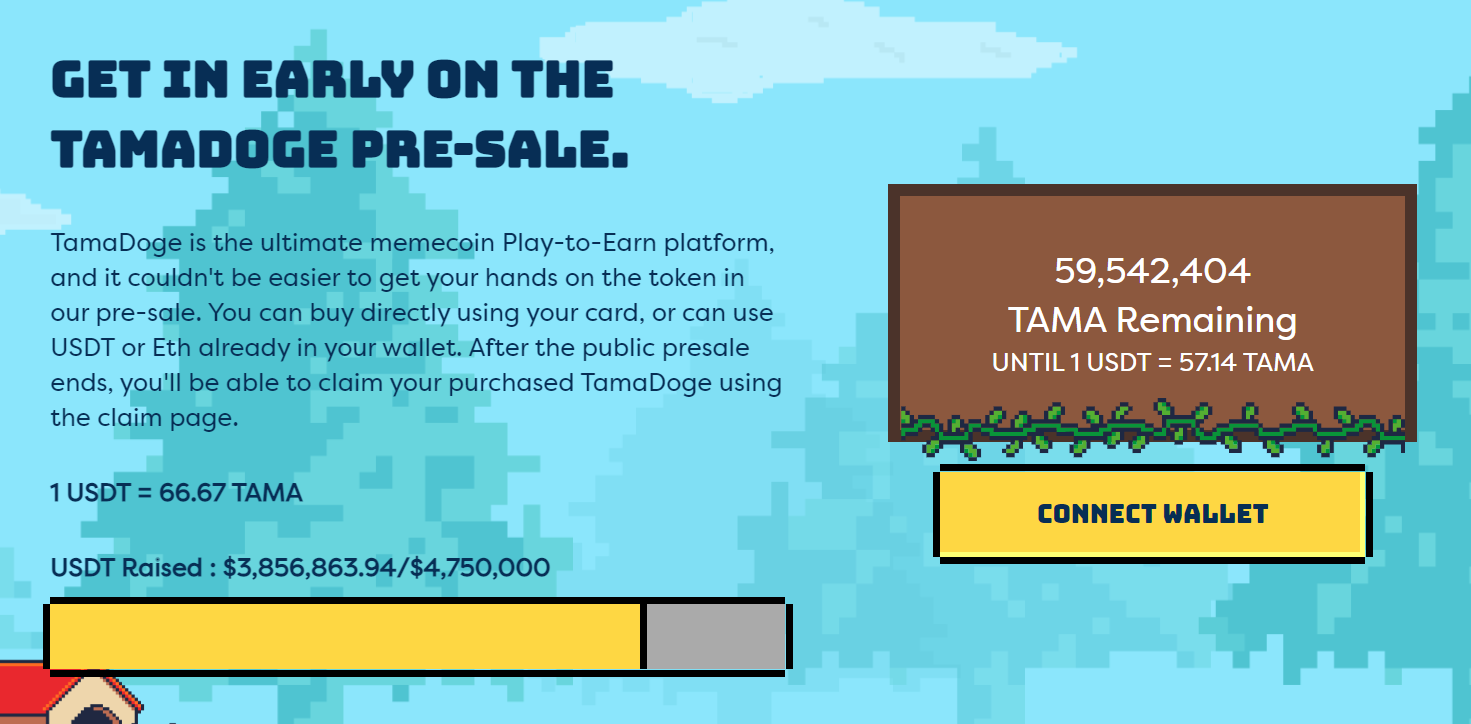 Another forthcoming player-to-player (P2P) game, this one will combine the attractiveness of meme-based cryptocurrencies with non-fungible tokens and gameplay. Players will compete against one another using virtual pets based on the Doge cryptocurrency.
In contrast to Dogecoin, whose total supply has increased from 100 billion when it first started trading to approximately 133 billion now, TAMA, the native token of the TAMA network, has a deflationary effect on the economy.
More on Tamadoge
It's a fascinating new Memecoin that has just become accessible, and it also has some use. The deflationary meme cryptocurrency known as Tamadoge serves as the native governance token for the in-game version of the Metaverse known as Tamaverse.
A popular video game from the 1990s known as Tamagotchi is brilliantly incorporated into the name of the cryptocurrency known as doge fever. Through the use of the play-to-earn system known as Tamadoge, you have the ability to cultivate your very own NFT Tamadoge Pet.
You have the option to maintain a large number of Tamadoge pets, to feed them whatever you choose, and to see their progression as they gain experience and strength over time. Users get incentives for being attentive to their dogs' needs and spending quality time with them from infancy to old age. Adult animals are eligible to compete for the chance to take the top spot on the scoreboard.
They will each have a distinct 3D avatar in order to participate in the worlds of the Metaverse project. Additionally, an app that features an augmented reality viewer is already integrated, allowing you to be within a single swipe's distance of your pet at all times.
This play-to-earn game offers pleasure and needs combat abilities, in contrast to other play-to-earn games, which may be monotonous affairs centred on repeating jobs with little talent and offer fewer opportunities for advancement.
How is Tamadoge different From Shiba Inu?
It seems as though Tamadoge is situated in a Metaverse that has the potential to become addicting. In contrast to Saudi Shiba Inu, Tamadoge does not impose a charge on transactions that include the use of TAMA coins.
Instead, money is generated by the imposition of transaction fees on transactions made in the Tamadoge shop, which is a marketplace within the game where players may buy and sell in-game items.
If you are searching for a meme currency that has a typical business model that places emphasis on getting more users in order to raise income rather than playing games only to make money, then your best bet is to look into Tamadoge.
So far, a total of 2 billion Tamadoge tokens have been produced; this number represents the available token supply. Since it is anticipated that Tamadoge will see explosive growth as soon as it is made available to the public, this is the perfect chance to make an early investment in the project and to begin tallying your earnings as soon as it goes online.
Buy Shiba Inu
Read More
Tamadoge – Play to Earn Meme Coin
Earn TAMA in Battles With Doge Pets
Capped Supply of 2 Bn, Token Burn
NFT-Based Metaverse Game
Presale Live Now – tamadoge.io