Is It an Adieu for Shiba INU? Shiba Founder Deletes All Blogs and Tweets
Shiba Inu's pseudonymous founder, who went by the name, Ryoshi, has joined the Bitcoin founder Satoshi Nakamoto's legacy and has deleted all the tweets and blogs yesterday.
Call it a coincidence or a measured move. The last post by Ryoshi precisely about a year ago said, "I am not important, and one day I will be gone without notice. Take the Shiba and journey upwards frens." But this was not the only time Ryoshi talked about disappearing.
"I have said from the beginning, I am a nobody, I am not important," the creator allegedly said in a deleted Medium post. "Even if successful, the efforts to uncover my 'identity' would be insufficient. I'm just some insignificant man pounding away at a keyboard, easily replaceable. My name is Ryoshi."
In another post, the founder wrote, "Every Shibarmy is Ryoshi. It does not represent someone but the glory of Shibarmy!."
While Ryoshi's Twitter account goes by @RyoshiReseach and is still active, all of the postings are deleted. The founder has replaced his profile photo with a photo of Buddhist Jetsun Milarepa, a well-known Tibetan poet, and yogi. A cloud and a half-moon are featured in his account's header image. Also, all four SHIB blogs on Ryoshi's Medium platform have been removed.
Ryoshi left while Shiba Inu is still against severe competition from the Bitgert (BRISE) project. Shiba has struggled to compete with utility projects like Bitgert as a meme coin. Bitgert has attracted a large number of selling SHIB investors. This includes the Shiba Inu whales who are stocking up on Bitgert BRISE this year.
Buy Shiba INU on eToro Now
Your capital is at risk.
In other news, among the wealthiest Ethereum whales, SHIB is the most held coin. Individuals or entities that retain vast amounts of a cryptocurrency's coins are referred to as "whales" in crypto terminology. Ethereum "whales" appeared as one of the largest holders of Shiba INU, with up to $1 billion SHIB, according to the famous crypto tracker Whale Stats,
In the meantime, Shytoshi Kusama, the lead developer being Shiba, wrote a blog post confirming Ryoshi's dedication to the project's success where he mentioned that Ryoshi's decision of remaining anonymous would contribute to the "mystique and awe of our mythos." The blog stated, "We've built from the ground up, never paid an exchange for a listing, and revolutionized "meme" tokens by growing exponentially."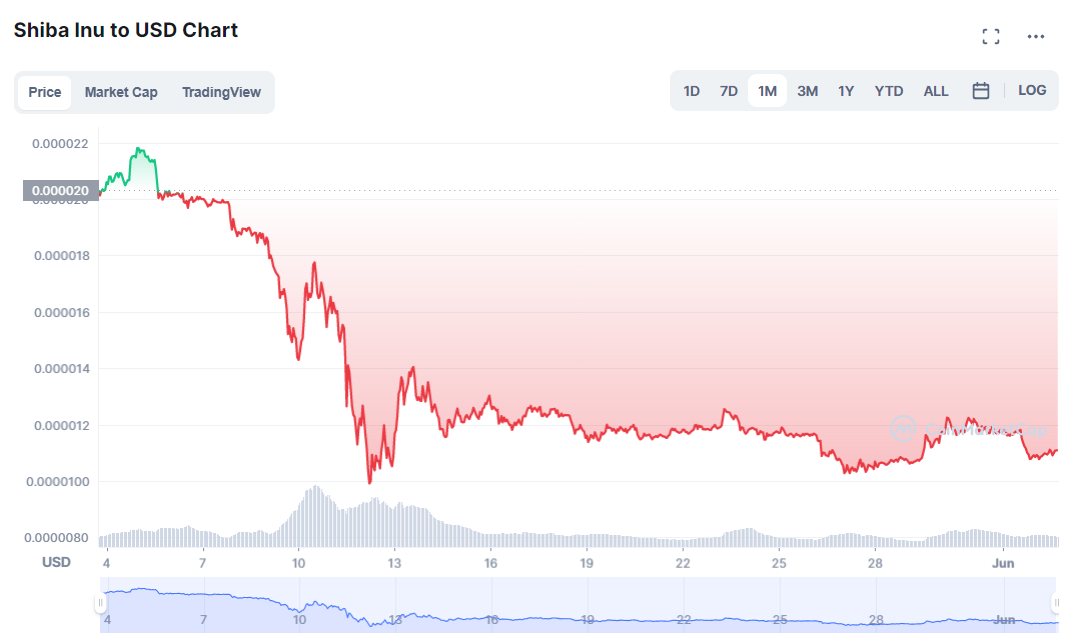 Shiba INU price seems unchanged even after the founder deletes his tweets
For reasons unknown, whether Ryoshi will be back in the community or was it a celebrity move, the fact is this sudden departure does not appear to have any effect on the Shiba INU price. According to the current CoinMarketCap ranking, it is currently trading at $0.0000111, down by 0.09 percent in last 24 hours.
A Brief Background
Since the project's inception in August 2020, Ryoshi's identity has remained a mystery. We don't know if it's a person or a group who has the operational hand behind Shiba Inu. Shiba INU had risen to be the second most popular meme coin in the cryptocurrency industry.
Buy Shiba INU via eToro Platform
Your capital is at risk.
Shiba was launched as a decentralized meme token in August 2020. After its inception, Ryoshi gave Vitalik Buterin, co-founder of Ethereum, 50% of all SHIB. Buterin has since donated his SHIB collection, in addition to burning 410 trillion SHIB.
Read more:
Lucky Block – Our Recommended Crypto of 2022
New Crypto Games Platform
Featured in Forbes, Nasdaq.com, Yahoo Finance
LBLOCK Token Up 1000%+ From Presale
Listed on Pancakeswap, LBank
Free Tickets to Jackpot Prize Draws for Holders
Passive Income Rewards – Play to Earn Utility
10,000 NFTs Minted in 2022 – Now on NFTLaunchpad.com
$1 Million NFT Jackpot in May 2022
Worldwide Decentralized Competitions
Cryptoassets are a highly volatile unregulated investment product. No UK or EU investor protection.