5 Top Cryptos to Buy This Week
Are you looking to invest in crypto but don't know what to get started with? Below, we've outlined some of the  top cryptos to buy this week.
1. Lucky Block (LBLOCK)
The first coin on our list of the top cryptos to buy this week is LBLOCK. This crypto asset is the native token of Lucky Block – a blockchain gaming platform that allows players to enjoy access to an ecosystem of games. Lucky Block promotes transparency and fairness across the gaming ecosystem.
LBLOCK trades at $0.0016 – an impressive jump of 3.79% in the past 24 hours.
There is a great deal of excitement surrounding the digital asset currently. Lucky Block's developers have been touting their daily jackpot and non-fungible token (NFT) giveaway, and the draws are expected to begin today.
Gm #LuckyBlockArmy! 🤞

Are you ready for tonight's draw? 🤔

— Lucky Block (@luckyblockcoin) June 6, 2022
Entry into the Lucky Block jackpot is free for all community members and other interested parties who purchase $500 worth of LBLOCK tokens. Lucky Block is giving away $1 million in prizes. Already, a lucky user won $1 million in the past week's jackpot draw.
As for the NFT draw, the entry barrier is ownership of Lucky Block's Platinum Rollers Club NFTs. Lucky Block is also giving away $1 million in prizes, and a lucky winner also emerged last week.
NFT draw with @SwaeLee! 🎉

401 is a winner of NFT! 🚀

873541 is a winner of main jackpot! 🤩

Congrats to the winners and thank you all for participating! https://t.co/Scae1i3Rpx

— Lucky Block (@luckyblockcoin) May 31, 2022
We expect to have these draws continue well into the month, thus bolstering the prospects for LBLOCK and encouraging more investors to buy Lucky Block.
2. Cardano (ADA)
Cardano's ADA token is currently one of the most popular cryptocurrencies in the market. Trading at $0.6260, ADA is up by an impressive 10.33% in the past 24 hours. This surge presents a better gain than all the coins in CoinMarketCap's top 50 slots. Investors can buy Cardano now to join the gain train.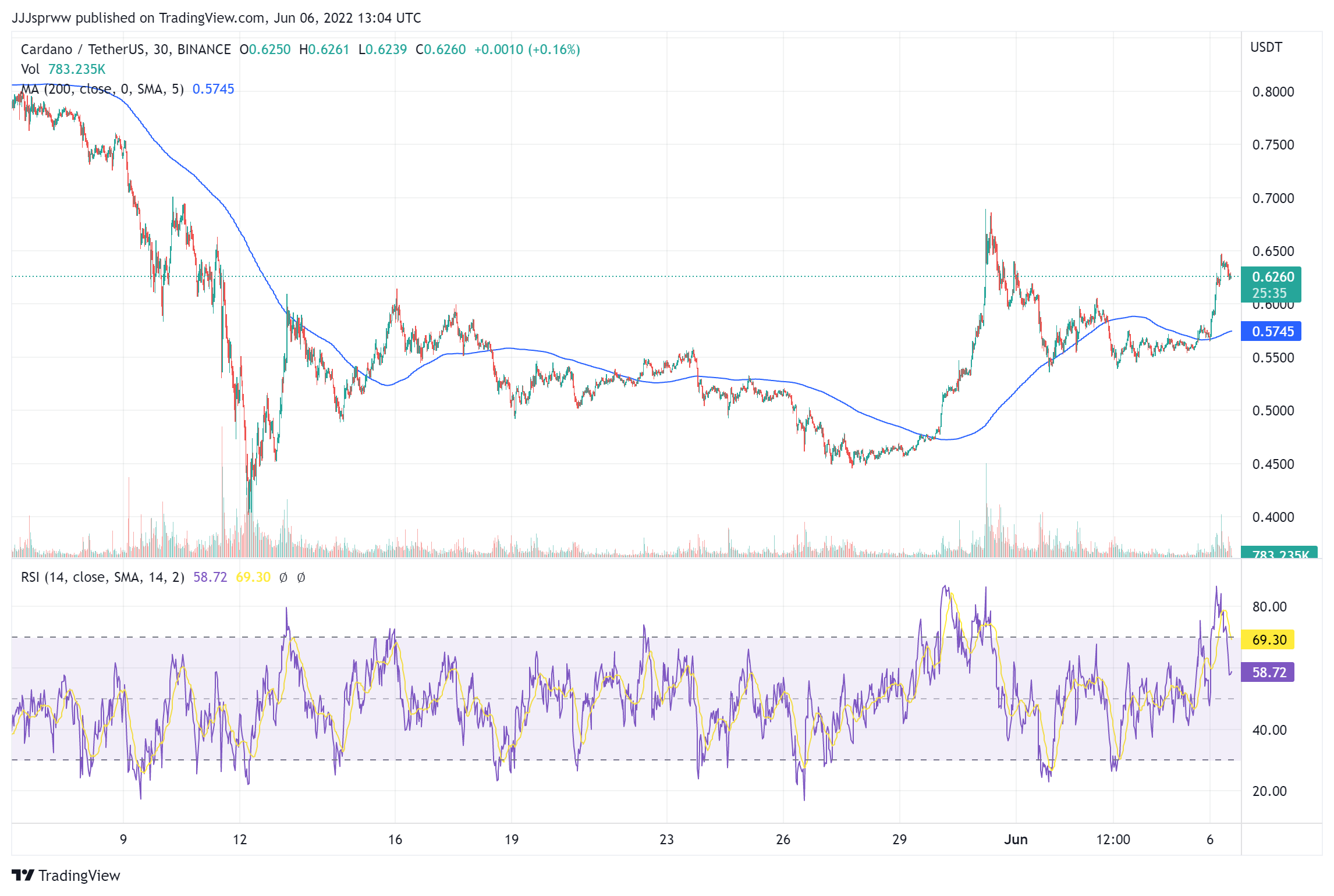 Cardano's jump is due to the upcoming Vasil hard fork. The upgrade is expected to be the biggest since the Alonzo hard fork, which brought smart contacts to Cardano back in September 2021.
According to an outline from Cardano's developers, Vasil is supposed to bring several Cardano Improvement Proposals (CIPs) – including and especially CIP-31, which will significantly cut transaction costs on the blockchain.
Reference scripts reduce your transaction costs.

Currently, new scripts need to be included in each transaction.

With reference scripts, you can interact with the script through a reference, pushing it onto the chain.

➡️Interaction with a smart contract becomes minimal. pic.twitter.com/g8qVukL75W

— Input Output (@InputOutputHK) May 2, 2022
The Vasil hard fork is expected to be implemented in June, and a poll organized by CoinMarketCap's price estimates tool indicates massive support for the hard fork and its prospects for bolstering ADA's price. So, there's a strong case for ADA as a part of the best cryptocurrencies to buy his week.
3. Bitcoin (BTC)
As the market's leader, Bitcoin features among the top cryptos to buy this week. Over the past two days, the asset's gain is a major reason for the broader market surge, with Bitcoin's dominance standing at 46.4%.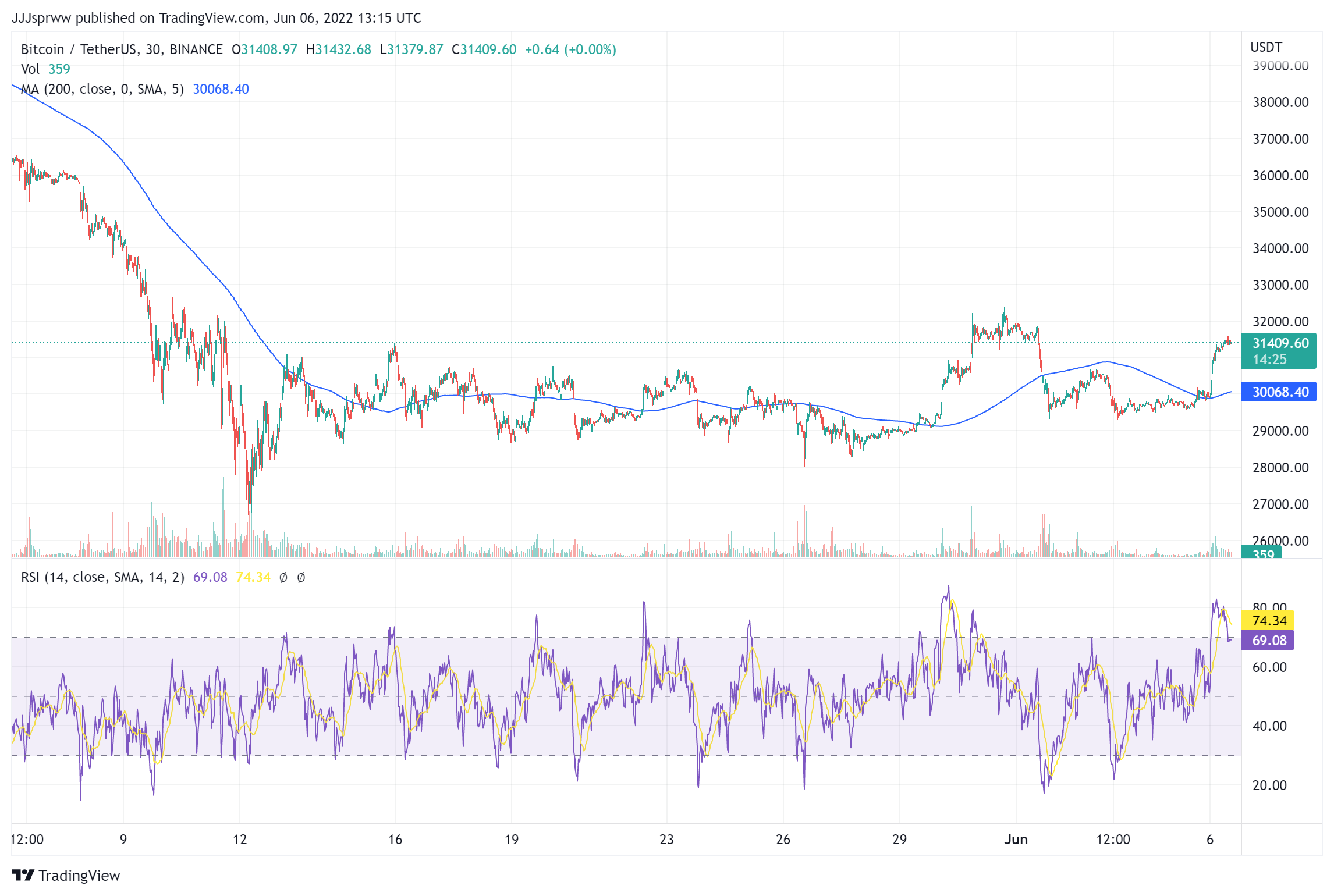 Bitcoin's price is currently $31,409. This is an increase of 4.68% in the past 24 hours, providing investors who buy Bitcoin an opportunity to gain. Also, the increase is in line with the broader market's jump of 4.98%.
While most of its gains appear to be due to the market's moves, Bitcoin recently made another breakthrough as the Central African Republic recently accepted it as legal tender. The move mirrors that of El Salvador, and it foreshadows what could be a broader move towards Bitcoin legalisation by countries across the world.
4. Binance Coin (BNB)
Binance Coin (BNB) is another viable option for investors looking for the top cryptos to buy this week. The digital asset serves as the native token for the Binance ecosystem, and developments with Binance are sure to bolster its price.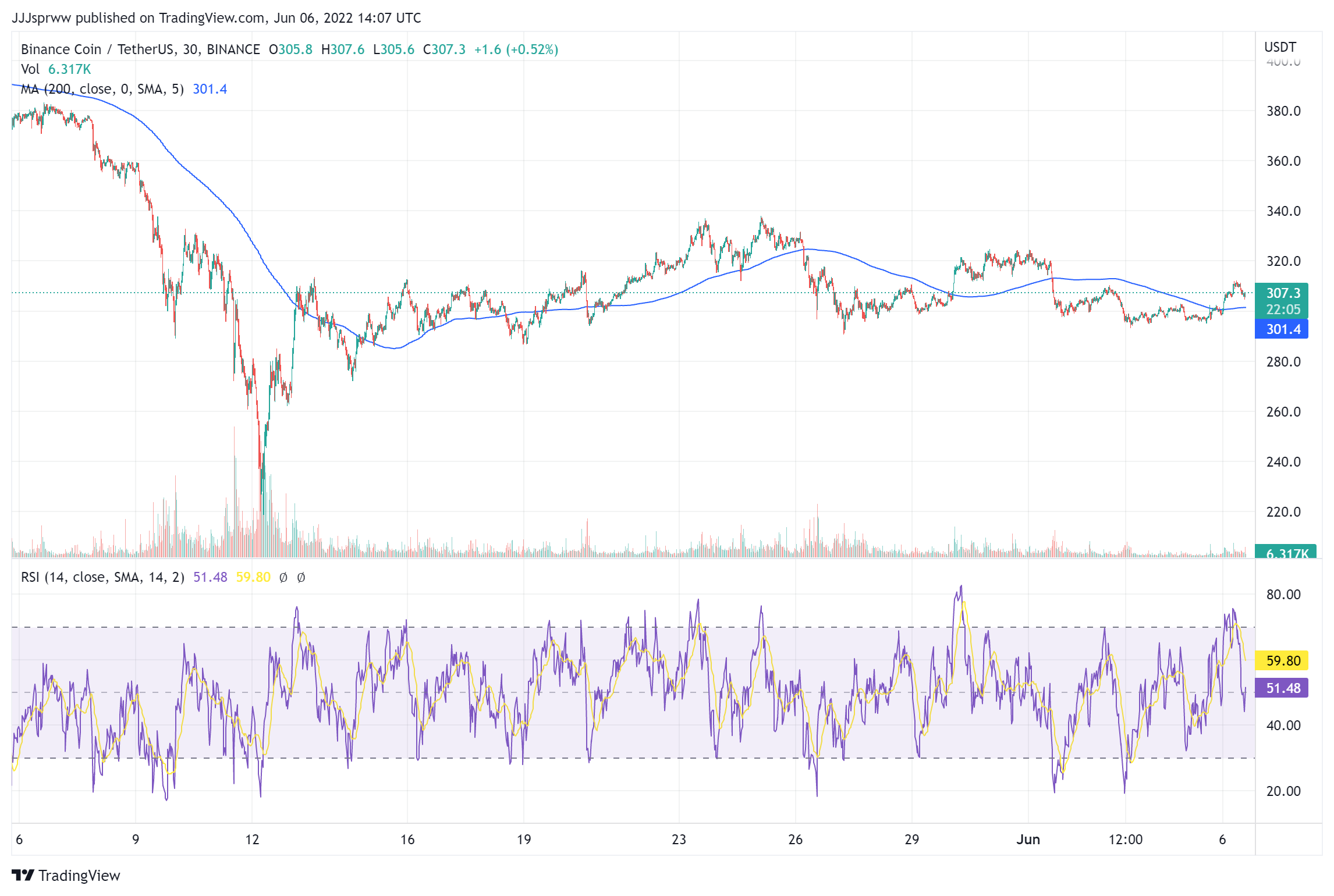 BNB, the fifth most valuable cryptocurrency, currently trades at $307.30. This is a jump of 2.70% in the past 24 hours.
BNB's prospects continue to grow as Binance makes inroads into different parts of the industry. Last week, the major exchange launched a fund to invest in Web3 and blockchain projects. The fund, which will have $500 million at its disposal, will seek to invest in projects looking to improve the functionality of digital assets.
As Binance expands its influence in the market, we expect to see BNB's price surge even more and more investors buy Binance Coin.
5. FTX Token (FTT)
Also an exchange token, FTT underpins many of the functions on FTX – the second-largest cryptocurrency exchange by daily trading volumes.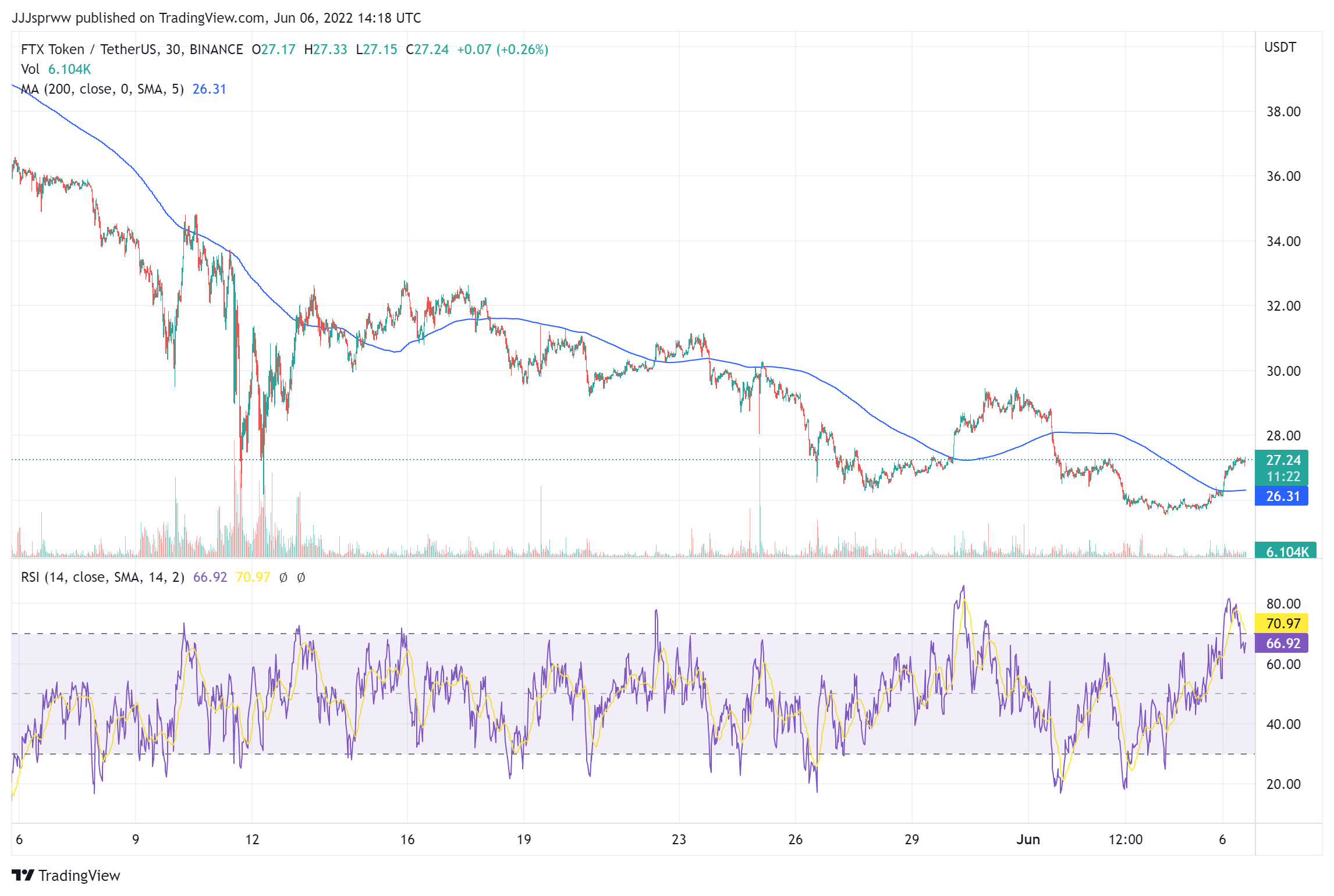 Trading at $27.24, FTT is up by an impressive 4.95% in the past 24 hours. This surge provides investors who buy FTT an ideal opportunity to gain.
Like BNB, FTT will see many of its prospects surge due to developments in the FTX ecosystem. FTX is one of the fastest-growing in the market, and it continues to expand its services and its reach.
After overtaking Coinbase to become the second-largest crypto exchange, FTX successfully launched its services in Japan last week. The launch was following FTX's acquisition of Liquid in February, with the latter becoming FTX's Japanese subsidiary.
FTX is pleased to announce the acquisition of the Liquid group of companies, including an FSA-registered crypto-asset exchange to provide products and services to our customers in Japan! 🇯🇵https://t.co/rO5TznWFCU

— SBF (@SBF_FTX) February 2, 2022
With Japan being one of the world's foremost markets for cryptocurrencies, we expect this expansion to improve FTX's numbers even more.
Read More:
Lucky Block – Our Recommended Crypto of 2022
New Crypto Games Platform
Featured in Forbes, Nasdaq.com, Yahoo Finance
LBLOCK Token Up 1000%+ From Presale
Listed on Pancakeswap, LBank
Free Tickets to Jackpot Prize Draws for Holders
Passive Income Rewards – Play to Earn Utility
10,000 NFTs Minted in 2022 – Now on NFTLaunchpad.com
$1 Million NFT Jackpot in May 2022
Worldwide Decentralized Competitions
Cryptoassets are a highly volatile unregulated investment product. No UK or EU investor protection.