5 Top Crypto To Buy For Long-Term Returns April 2022 Week 2
Hodling is one of the most trusted crypto trading strategies. Investors looking to enjoy gains understand that holding for the long term will be more beneficial than searching for short-term gains. However, the success of this trading strategy relies on your ability to find top cyptocurrencies with growth potential.
Below, we have the best crypto to buy for long-term gains this year:
1. Lucky Block (LBLOCK)
Kicking off our list of the best crypto to buy is LBLOCK.
The asset is the native token for Lucky Block – an online lottery platform that integrates blockchain technology to promote fairness and transparency in transactions. Lucky Block has seen its online community grow significantly over the past few months, and its LBLOCK token has also jumped markedly in value since it launched.
Down by 6.85% in the past 24 hours, LBLOCK trades at $0.0028. Being a relatively small coin, this drop is understandable. However, if you're looking for long-term gains, LBLOCK remains a top choice for you. LBLOCK's developers are making giant strides to ramp up its appeal.
Over the past month, the team launched the Platinum Rollers Club – a non-fungible token (NFT) collection that offers several benefits to holders; including giveaways and access to an exclusive community.
The Lucky Block app is also expected in a few weeks. The platform's Android app is already in its final beta stage, and the iOS app is in the process of clearing its final review on the App Store.
With LBLOCK itself nearing the 50,000 holder mark (less than 3 months since launching, no less), this is obviously a growing project with a lot of potential in the near future.
2. Terra (LUNA)
LUNA has been one of the market's standout performers this year. The asset, which underpins the Terra stablecoin ecosystem, is recording impressive gains, with its current $102.74 price being down just 0.7% in the past 24 hours.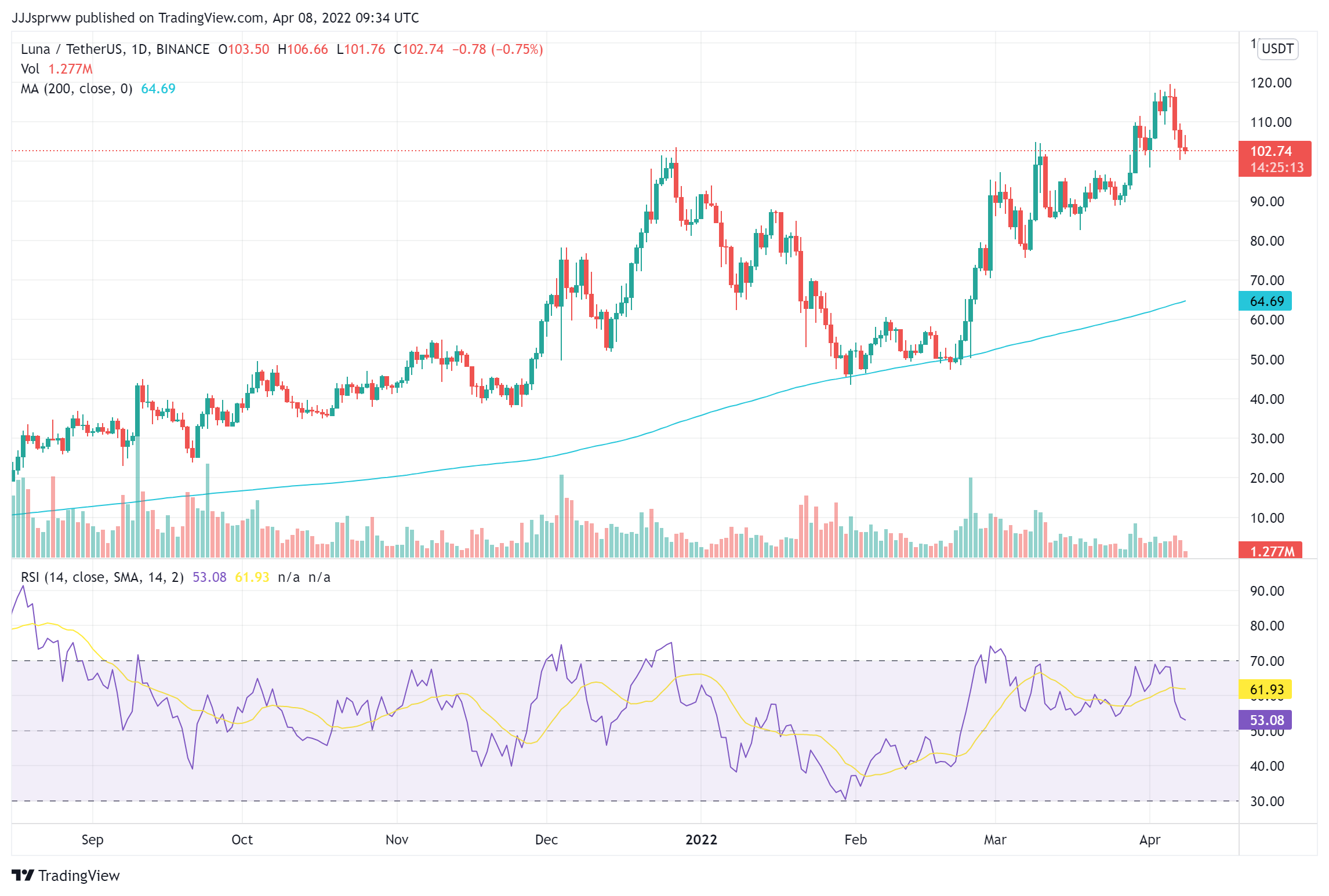 LUNA made headlines when its parent body announced its decision to add Bitcoin to its reserves. Recently, the Luna Foundation Guard (LFG) – a nonprofit that oversees its operations – began buying Bitcoin to shore up the value of their UST stablecoin. The LFG plans to buy $10 billion worth of Bitcoin, and they already purchased more than $1.2 billion, at press time. When the bulls return, we expect the LFG to lock in some massive gains.
Besides buying BTC, Terra's developers appear to also be investing in AVAX – the native token for the Avalanche network. They confirmed purchasing $200 million worth of the asset this week, also with the aim of bolstering their reserves.

With staking for the UST stablecoin now live on Binance, Terra is giving its users more avenues to make passive income. This should improve their user base significantly and provide a strong platform for future growth.
3. Bitcoin (BTC)
The world's leading cryptocurrency remains one of the best crypto to buy for investors looking to earn long-term gains. Trading at $43,685, BTC is down by 1% in the past day.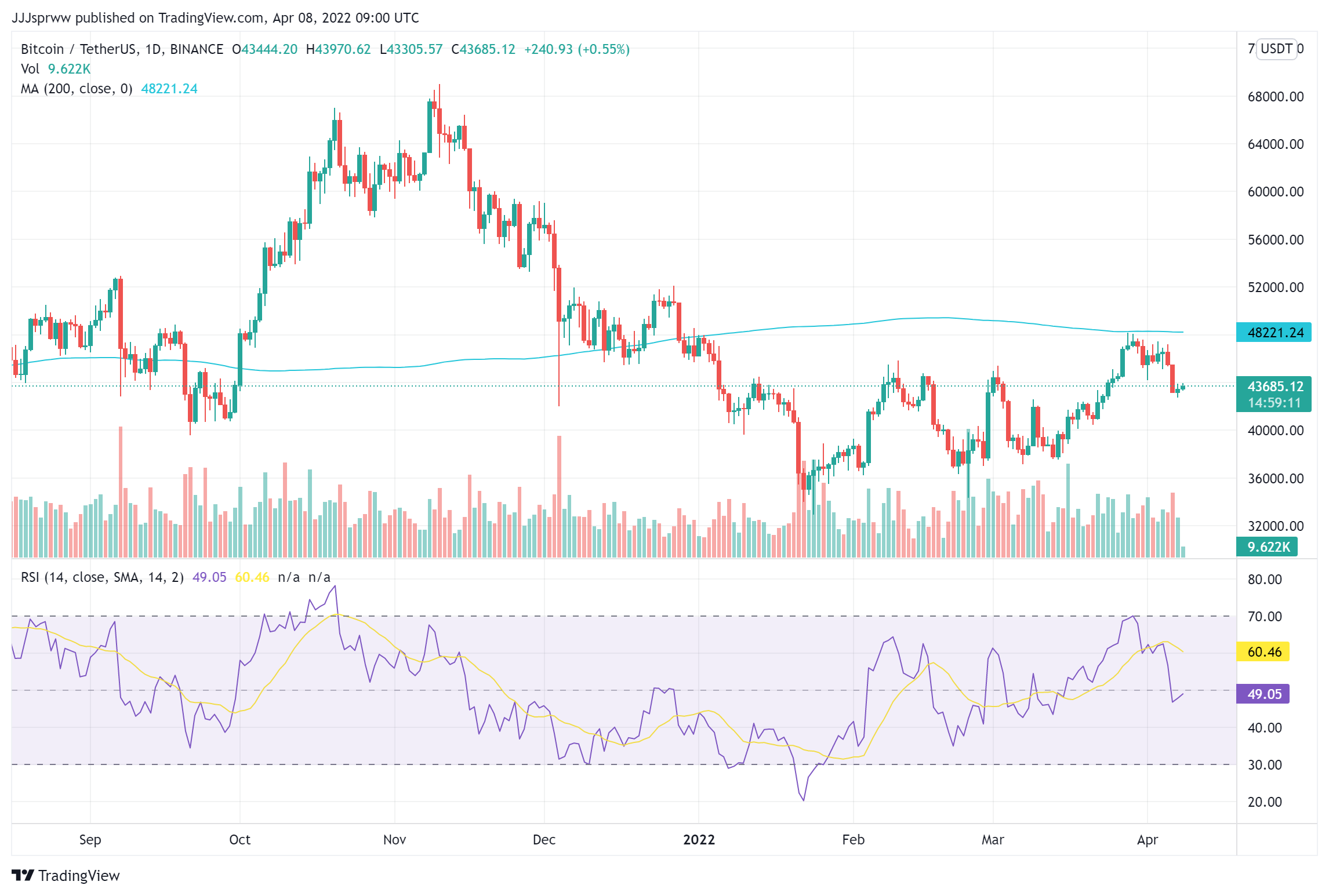 Despite the drop, Bitcoin has a lot of potential going forward. The asset's performance over the last two weeks has drawn more institutional investment. MicroStrategy bought up a further 4,197 BTC to its balance sheet earlier this week. The Luna Foundation Guard is also keeping up with its commitment to buy BTC, with the company committing $230 million to buy the asset this week.
As inflation fears continue to bother the traditional market and investors look to safe havens, there is a lot of excitement for Bitcoin getting an influx of buyers soon enough. Inventors looking to play the long game would definitely see a lot of gains with Bitcoin at the moment.
4. The Sandbox (SAND)
Next on our list of the best crypto to buy is SAND – the native token for The Sandbox. One of the most popular play-to-earn(P2E) games, The Sandbox is notable for seamlessly combining blockchain with the metaverse. Its SAND token trades at $3.09 right now, up by 0.58% in 24 hours.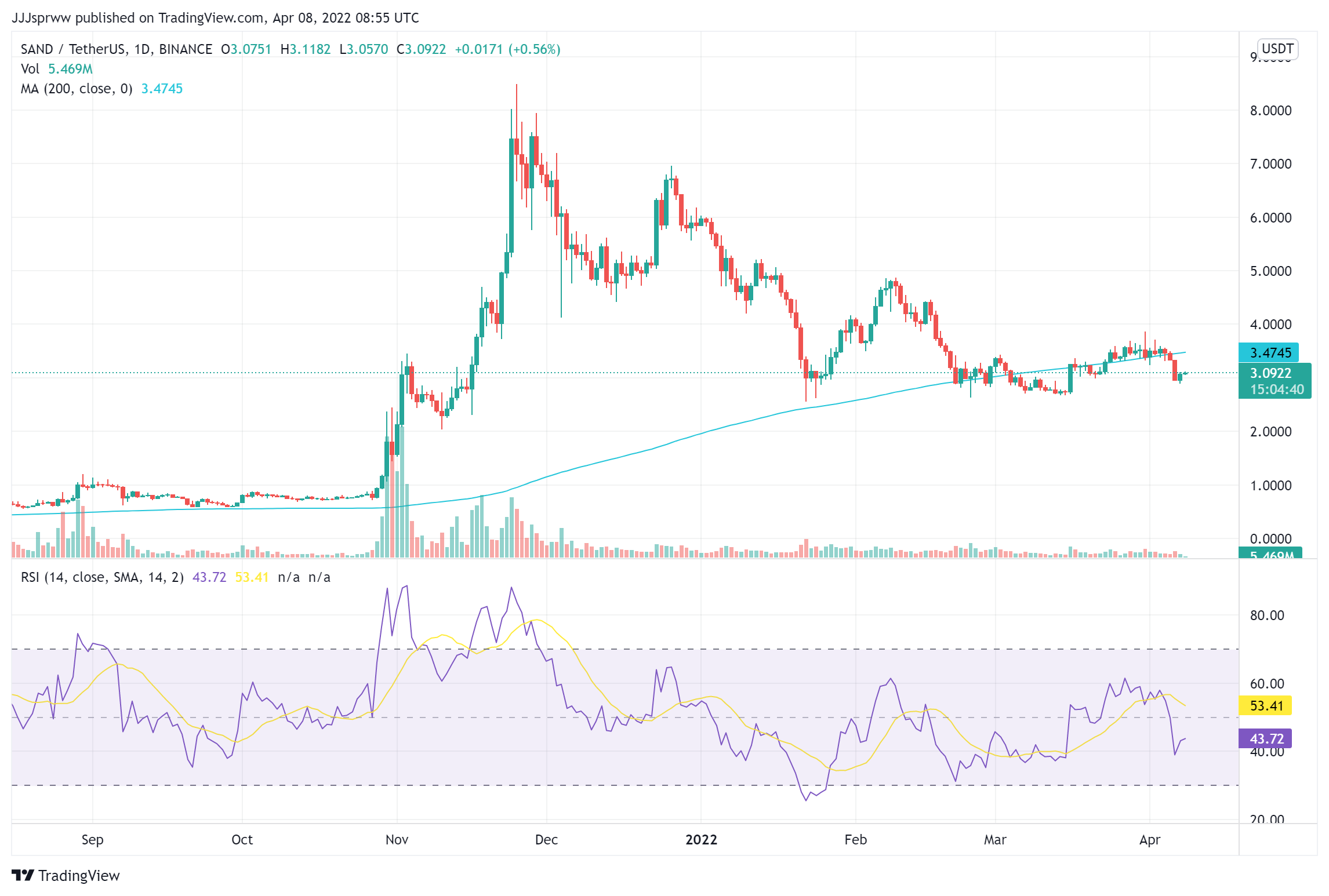 The Sandbox's prospects look much stronger thanks to the hack of Axie Infinity – one of its main competitors – last week. In what could be the largest crypto-related hack ever, Axie's Ronin Bridge was hacked for over $610 million last week. This will boost The Sandbox as Axie is expected to have a long crawl back to earn users' trust.
The Sandbox has been on an impressive run lately. Last month, the platform welcomed banking giant HSBC, which bought a land plot in its universe and plans to conduct different awareness campaigns.
The HSBC partnership has spurred The Sandbox significantly. This week, 21Shares launched a SAND exchange-traded product (ETP) to give investors additional exposure to the asset. At the same time, reports have confirmed that the game might be looking towards another funding round.
5. Binance Coin (BNB)
Binance Coin is the most popular exchange token on the market by a mile. This isn't surprising since it is linked with Binance – the world's foremost crypto exchange platform. The asset is one of the large-cap coins bucking the market's downward trend, with its price of $432.90 being a 0.50% increase in the past 24 hours.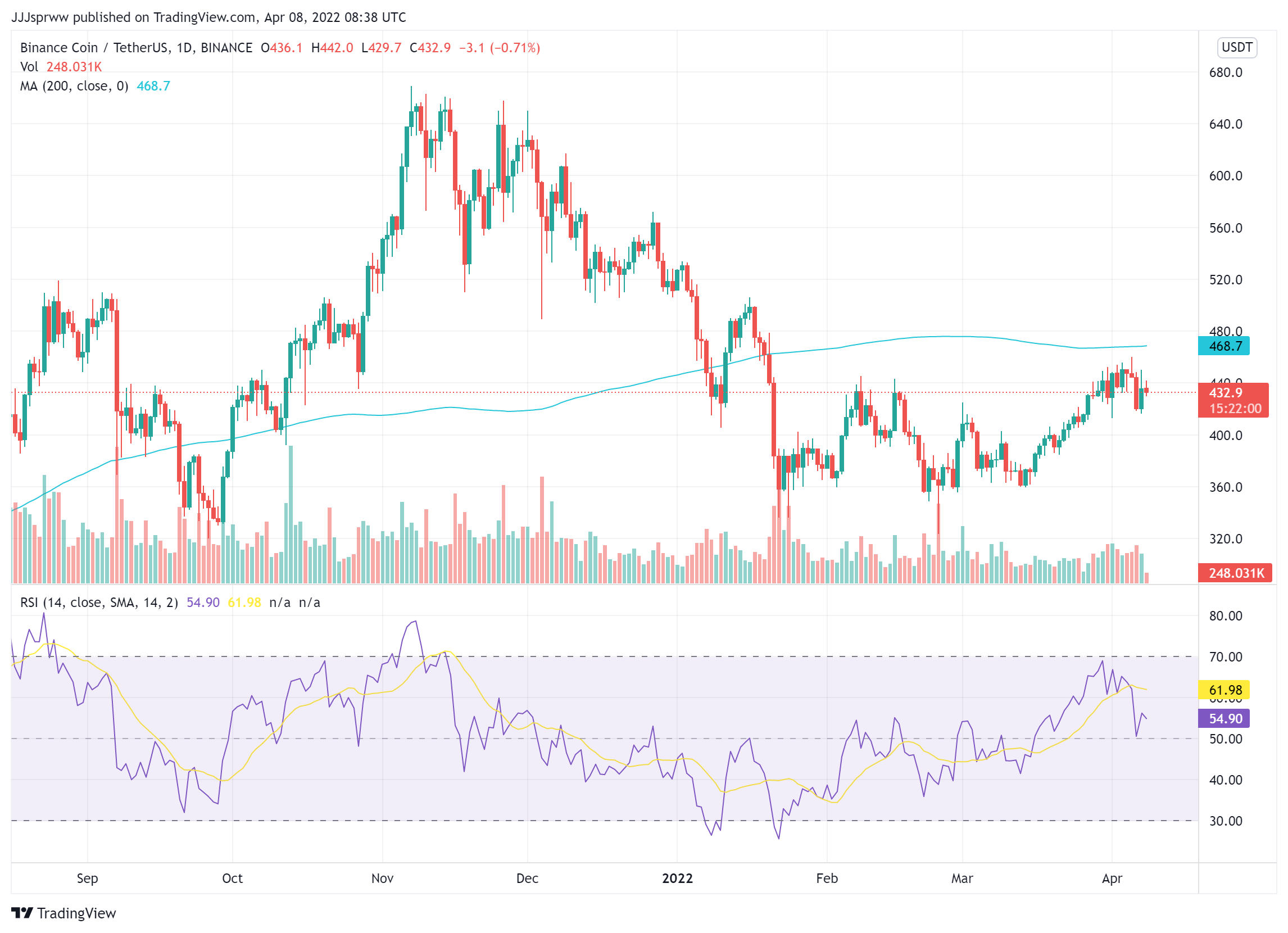 The biggest fundamental news for BNB is the recent capital raise for Binance US – Binance's regulated arm for American crypto enthusiasts. Binance US raised $200 million at a $4.5 billion valuation this week, with its first-ever external funding round led by Circle Ventures. With Binance continuing to grow and expected to expand further into the American market, BNB looks like one of the best crypto to buy right now.
Another interesting development came from Binance's bailout of Axie Infinity. Following the platform's massive hack last week, Sky Mavis – Axie's developer – raised $150 million led by Binance. The fundraising round is expected to go towards reimbursing the hack victims, with Sky Mavis looking to relaunch its Ronin Bridge.
Read more: