What is the Columbian Footballer James Rodríguez's NFT all about?
NFT might be anything that exists in the digital world; tweets, audio, photos, videos, songs, and music albums. Since NFTs became widely popular in 2021, we have witnessed an increase in the involvement of celebrities in the market. One of the industries to recently "join the party" is the sports industry.
The most recent football and sport-based NFT featuring a Colombian legend, James Rodríguez, was sold for a whopping 11.3 ETH on the ZKSea auction. Interested in hearing more about the project? You are at the right place. 
Using ZK-Rollups technology, a type of Level-2 scalable solution for the Ethereum network based on zero-knowledge proof, ZKSpace is an AMM model Layer-2 decentralized exchange.
ZKSpace made the (logical) decision to introduce a famous footballer NFT, given the rising interest and enthusiasm that fans and the general public have for Sports NFTs. 
ZKSea, an NFT marketplace powered by ZK Space, focuses on providing a scalable and cheap experience for the expanding NFT user base by utilizing ZK Rollups. ZKSea has been working to provide the platform with a distinctive positioning and is considered a promising option for NFTs related to sports.
An official line of special NFTs called Zurda ("left foot" in Spanish) was developed in collaboration with football star James Rodríguez. This line will be sold on ZKsea.
It includes all the famous situations, great career moments, and highlights of the legendary footballer, with only 1,500 pieces and four rarity levels; 1 Platinum, 10 Gold, 400 Silver, and 1,089 Bronze. 
Keep in mind that James is extremely popular and is widely considered one of the best Colombian and LATAM football players of all time, which means: his NFT is a big deal.
James Rodríguez has decided to join a group of highly regarded superstars and football clubs that are investigating the intersection of digital assets and professional sports, such as Cristiano Ronaldo, who recently announced his partnership with Binance, as well as famous football clubs from the Premier League (England), La Liga (Spain), and Ligue 1 (France).  
The only cryptocurrency that can be used to purchase Zurda is Ethereum. So, before buying, you must have some ETH in your Layer 2 wallet. ETH can be added through an Ethereum-L2 transfer using the ZKSpace and Banxa Fiat on-ramp services.
The public sale consists of two parts: the first is the auction and the second one is mystery box sales.
Auction
The auction happened on August 15, 2022, at 7:00 am UTC. The NFTs that were available at the auction was inspired by a total of 11 unforgettable events of Rodríguez's career (1 Platinum and 10 Gold NFTs), all of which were digitally created motion graphics.
They included the Puskas Award-winning goal (2014) as well as some of his most memorable performances for Real Madrid, Bayern Munich, etc.
The Platinum NFT was sold for 11.3 ETH (21,320 USD at press time). In it, James Rodriguez is featured as the 2014–2015 Liga BBVA season's Best Midfielder. Nearly 40 addresses made bids for the Platinum NFT, starting with 1 ETH, between August 15 and August 17. The prices for the Gold NFTs ranged from 1 to 2.5 ETH, with 2.5 ETH being the highest.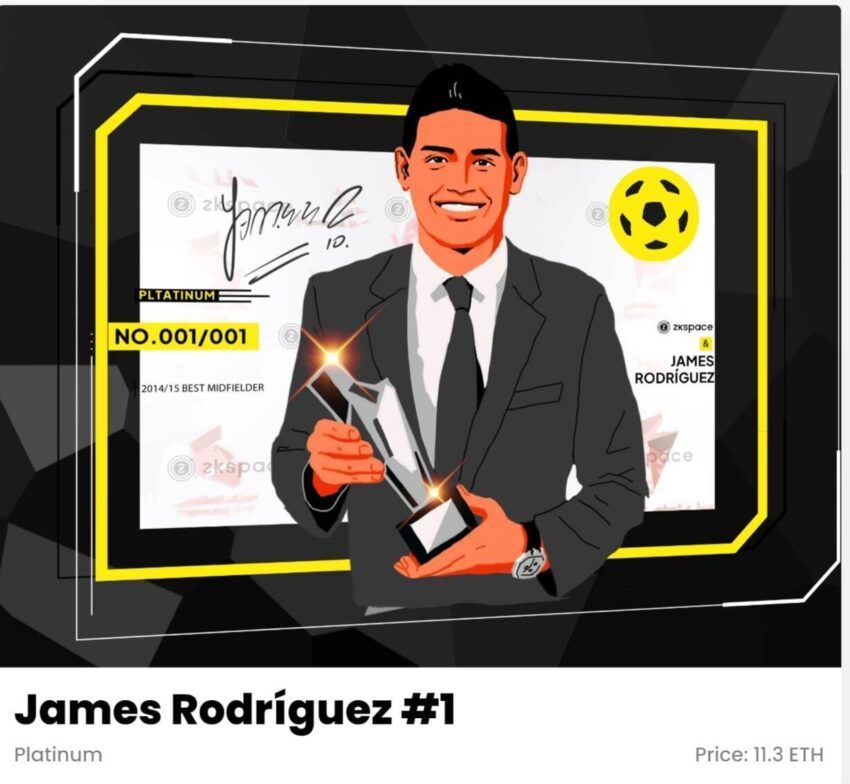 Mystery box sales
The second part, mystery box sales, will begin on August 17, 2022, at 7:00 am UTC, so two days after the auction. There will be bronze and silver rarity levels of Zurda NFTs (1489 in total) in the mystery boxes.
You will have the chance to acquire artwork from remarkable events in Rodríguez's career that took place on three different continents. 
Offering NFTs from various secret periods in mystery boxes also adds excitement to the buying process because no one can predict when or what it will contain, including the rarity level, until the box is opened.
A mystery box costs 0.15 ETH, however, those in the community who are on the whitelist receive a discount price of 0.12 ETH. You have to join the Discord community and wait for the opportunity to be added to the whitelist before the sale. 
First-come, first-served policy will apply to the sale of the mystery boxes. Thus, it is advised that you set the alarm and follow ZKSpace's Twitter page to stay on track with the sale and whitelist spots. 
You can find more details about silver/bronze rarity benefits and mystery box sales in the table below:
Furthermore, you can follow the instructions here; by pre-depositing 0.12 ETH, you can expedite the process of obtaining a seat on the whitelist.
Final thoughts 
If you are even remotely connected to the NFT world or the sports sector, you should absolutely take a look at James Rodríguez's NFT since it is an incredibly serious project.
To take part in the purchasing of a mystery box, the only need is for you to hold some Ether (ETH). There are no other particular requirements.
The fact that a global superstar, Cristiano Ronaldo, and Binance work together to produce NFTs shows the potential of NFTs and sports collaboration.
Keep in mind that ZKSea will run pertinent marketing and provide exclusive perks to NFT holders, so the price of these types of NFTs should rise as the world cup event approaches.
According to our findings, a significant amount of planning and thought has gone into developing this NFT, and the team that is working on the project is aware of what they are doing. The best of luck if you do want to take part in the mystery box sales!
Disclaimer
All the information contained on our website is published in good faith and for general information purposes only. Any action the reader takes upon the information found on our website is strictly at their own risk.