Vitalik Buterin Criticizes Sanctions Against Everyday Russians
Vitalik Buterin, the Ethereum co-founder, has expressed sentiments opposing the widespread imposition of sanctions against Russians. The developer shared his opinion on Twitter.
Recently, news broke that the Netherlands was suspending any visa applications from Russians. These visas were for short stays only.
The Dutch Ambassador to Russia Gilles Beschoor Plug said the embassy made the "tough and sad decision" to halt visa services after its entire visa section was expelled from the Russian Federation.
Visas and Russia
This prompted Buterin to speak his mind on Twitter.
"Be careful with this [decision to stop issuing visas]. 22 years ago, my family and I were the same Russians who received a visa from a Western country. This gave my father the opportunity to start a good business, and I got the opportunity to grow up without the influence of the ideology of 'zombies.'
One of the commentators on the network drew attention to the fact that many Russians who are in Europe are actively expressing their support for the rhetoric of the Russian authorities.
Vitalik Buterin advised responding to such people by trying to show their children an alternative point of view on what is happening.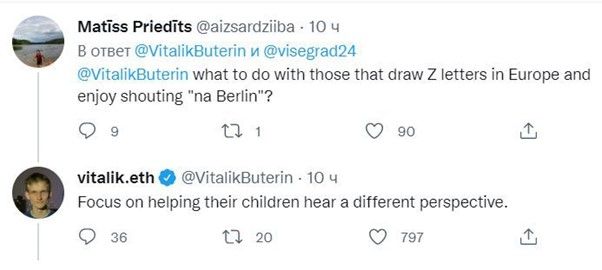 Vitalik Buterin and politics
Earlier, the developer said that Ethereum is beyond politics, but he personally is not.
In early April, the network reported that the developer sent 1500 ETH to support Ukraine (over $4.3 million, at the current rate).
Vitalik Buterin has criticized Putin multiple times for his exercises in warmongering.
Previously, as Russian armed forces launched their "special military operation" in Ukraine, Buterin decried this act, calling it "a crime against the Ukrainian and Russian people." Despite being born in Russia, the 28-year-old programmer ended his speech with the words, "Glory to Ukraine."
Got something to say about Vitalik Buterin or anything else? Write to us or join the discussion in our Telegram channel. You can also catch us on Tik Tok, Facebook, or Twitter.
Disclaimer
All the information contained on our website is published in good faith and for general information purposes only. Any action the reader takes upon the information found on our website is strictly at their own risk.