VanEck to Launch NFT Collection This Week
Key Takeaways
VanEck announced its new NFT collection today.
1,000 NFTs will be airdropped this week, and the collection follows the story of a fictional character based on Alexander Hamilton.
The tokens will come with certain perks, including private events and digital assets investment research.
Share this article
VanEck will be launching an NFT collection this week. The VanEck Community NFT collection will feature 1,000 non-fungible tokens, divided into three tiers of rarity, and follow the story of a fictional character based on Alexander Hamilton.
New NFT Collection Announced
The investment manager with more than $85 billion in assets under management has announced plans to launch NFTs of its own.
Today, VanEck announced that it would be dropping its VanEck Community NFT collection in collaboration with the South Korea-based NFT company NUMOMO. The collection will include 1,000 NFTs launched on Ethereum and is meant to "showcase the real-world utility inherent in the NFT structure."
The NFT project will be placed within the world of the fictional character named Hammy, who is modeled after Alexander Hamilton, a founding father of the United States. As the founder of what served as the nation's first central banks and head of the Treasury under President George Washington, Alexander Hamilton's analog character Hammy will wade through the waters of monetary policy in VanEck's NFT story, in which he will discover the utility of cryptocurrencies. The first episode has already been released.
There will be three different tiers of non-fungible tokens in the VanEck collection, based on rarity. Three-quarters will be commons, 230 will be rare, and 20 will fall under the "legendary" category. The benefits afforded to NFT holders will vary based on what category their token falls under but could include early access to the firm's investment research on crypto assets, as well as exclusive invitations to events (both in the Metaverse and in the real world).
JP Lee, a co-founder of the VanEck Community NFT collection, said,
"Since NFTs first emerged as a means to showcase compelling digital art, we haven't overlooked that part of the equation either. Our NFTs will all feature eye-popping 3D avatars and narrative-style videos that will help create a real sense of story and spur discussion, debate and community. Our character 'Hammy' is going to be an outstanding guide for anyone interested in seeing the past, present and future of finance unfold."
The VanEck NFTs will be airdropped. VanEck, possibly to get in front of potential regulatory concerns, is framing the NFTs as gifts to those who sign up. The firm also noted that those who hope to sell the non-fungible token should not sign up, and it emphasized the market, volatility, and regulatory uncertainty risks to NFT and crypto holders.
VanEck announced its NFT collection the Monday after one of the biggest drops in history, in which the Bored Ape Yacht Club founder Yuga Labs' sold over $300 million worth of NFTs for their Otherside metaverse project.
Disclosure: At the time of writing, the author of this piece owned BTC, ETH, and several other cryptocurrencies.
Share this article
Yuga Labs' Otherside NFT Sales Break $310M
A new Metaverse by Bored Ape Yacht Club creator Yuga Labs has taken the virtual world by storm, bringing in more than $310 million in its hotly-anticipated NFT drop this…
A Crypto Whale Is Paying NFT Skeptics $10,000 to Try Ethereum
Cobie is taking a novel approach to get NFT skeptics to come around to the technology, with mixed results.   NFT Skeptic Paid $10,000 for Buying NFT on Ethereum  One of…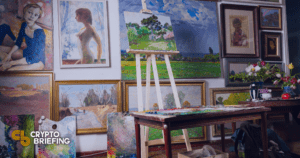 "Crypto Is Like the Eiffel Tower": Reflections on Paris Bl…
Paris Blockchain Week 2022 focused on NFTs, the multi-chain future, preparing for mass adoption, and more. Paris Blockchain Week 2022 Reviewed This week, a few thousand crypto geeks, industry heads,…