Shiba Inu Price Prediction Today, October 30, 2022: SHIB/USD Trends Upwards
Join Our Telegram channel to stay up to date on breaking news coverage
Shiba Inu broke through a couple of Fibonacci levels to the upside without finding support. It seems as if price action in this market is getting more volatile, however, this volatility appears to be directed upward.
SHIB Forecast Statistics Data:Shiba Inu's current price: is $0.00001315SHIB market cap: $7.86 billionShiba Inu circulating supply: 549.1 billionSHIB total supply: 589.74 trillionShiba Inu Coinmarketcap ranking: #12
Notable Price Levels:Resistance: $0.00001315, $0.00001370, $0.00001450Support: $0.00001310, $0.00001300, $0.00001280
Shiba Inu Price Prediction Today, October 30, 2022: SHIB/USD Rallies Upside
On the daily SHIB/USD is feeling the impact of a tailwind, and this has resulted in a sudden spike in its price action. Although price action hasn't been able to find support at any of the Fibonacci levels, more chances of further price moves are around in this market. This could be observed as two long consecutive bullish candles arranged themselves above the MA line. If Buyers could maintain their bullishness, Shiba Inu's price action will brake more upside resistance. Furthermore, the Stochastic RSI lines are now touching each other at the tip to initiate a bearish retracement. Nevertheless, it's still possible for the price to reach near $0.00001430. Entering traders can place a long order halfway between the close of the last candle and the Fibonacci level of 38.20.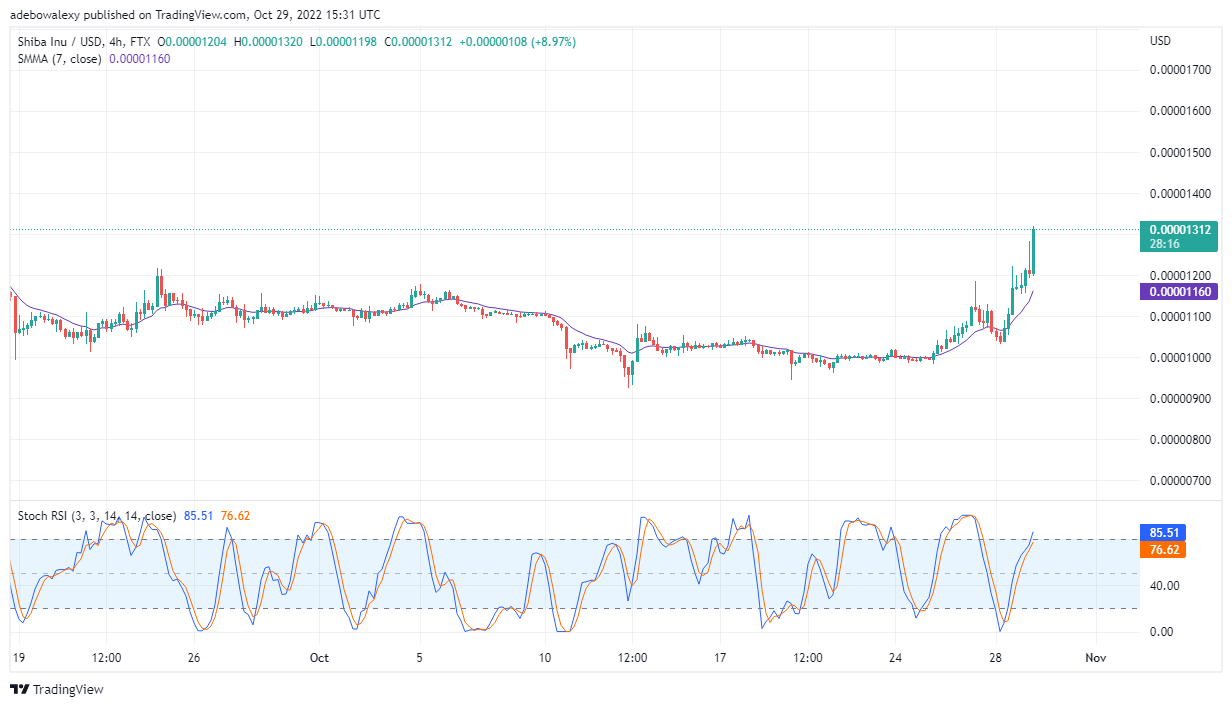 Shiba Inu Price Prediction Today, October 30, 2022: SHIB/USD Uptrend Continues
The SHIB/USD four-hour market shows that the bulls are still in control, and from the look of things we can assume their hold may be getting stronger. Price candles continue to stay above the Moving Average line. Also, the RSI is still rising upwards into the overbought zone, with its line looking divergent from each other. Additionally, both lines of the RSI have ascended beyond the 75% level. Consequently, this is revealing that this uptrend may have gained the needed momentum to reach $0.00001430 as earlier stated.
IMPT presale has been greatly successful. So far this program has raised $10 million, all this amount was gathered within a month. Consequently, this is making it possible for this token to gather $10.8 million, and this program is still in the first stage
Dash 2 Trade which is the latest cryptocurrency signs platform, with the sole purpose of supplying retail trading tools to individuals, is conducting its presale program. This token presale program has raised $3 million towards achieving its sole mandate.
Related
Dash 2 Trade – High Potential Presale
Active Presale Live Now – dash2trade.com
Native Token of Crypto Signals Ecosystem
KYC Verified & Audited
Join Our Telegram channel to stay up to date on breaking news coverage