BTC/USD Trades below $39K as Bitcoin Remains Above $38K
BTC Price Is in a Range as Bitcoin Remains Above $38K– March 14, 2022
BTC/USD faces rejection at the moving averages on March 14 as Bitcoin remains above $38K.This rejection is the first since February 28 price rebound as Bitcoin fell from the moving averages. The bears will use the advantage to push Bitcoin to the previous lows. Bitcoin risks further decline below the $37,000 support.
Resistance Levels: $70,000, $75,000, $80,000 Support Levels: $50,000, $45,000, $40,000
On March 14, the bulls pushed Bitcoin to the high of $40,005 but could not break above the moving averages. The implication is that Bitcoin will be compelled to decline to the downside. BTC's price is declining as it reaches the low of $39,048. In the previous price action, Bitcoin has been recovering above the $37,000 support. Nonetheless, buyers have been consistent in defending the $37,000 support. If Bitcoin loses the $37,000 support; the market will further decline to the lower region of $36,000 and $34,000 price levels.
On the upside, if the $37,000 support holds, Bitcoin may rebound as the bullish momentum clears the $39,000 resistance zone. This will extend to the high of $42,500. The BTC/USD will then rise to the overhead resistance at $45,000.In the meantime, Bitcoin has reached the high of $39,048 as of press time.
How Asian Countries Handle Crypto Sanctions Against Russia as Bitcoin Remains Above $38K
The United States and the European Union have continued to impose sanctions against Russia. At the same time, measures are taken to prevent Russia from using cryptocurrencies to invade sanctions. In this vein, global regulators have tasked crypto exchanges to comply with sanctions against Russia. The following are some of the Asian countries that have responded to sanctions.• Japan Fines Crypto Exchanges That Defy SanctionsThe Japanese Financial Services Agency (FSA) and the Ministry of Finance have indicated that crypto is part of the restrictions and any crypto assets identified to be related to sanctions should be frozen. In addition, crypto exchanges should not process crypto transactions involving sanctioned individuals or entities in Russia and Belarus. The FSA also indicated that any unauthorized transactions under sanctions, including transfers of cryptocurrencies or nonfungible tokens (NFT), will be liable to three years of imprisonment or one million yen ($8,500) fine.• Singapore Bans Fund Raising in Crypto for RussiaThe government has banned local financial institutions from processing transactions with sanctioned Russian banks as well as assisting in fundraising for the Russian government and related entities. According to the report, the ban covers cryptocurrency transactions, nonfungible tokens, and other digital assets. A crypto exchange like Luno has suggested that most crypto transactions in Singapore are not likely to have direct business relationships with Russia-based individuals or entities. ADDX is also a crypto-enabled private market exchange in Singapore. The crypto exchange said: "We perform Know Your Customer and Anti-Money Laundering checks on all our investors, and we, therefore, do not handle any anonymous transactions."• Major Crypto Exchanges in South Korea Block IP AddressesSouth Korea has joined global sanctions against Russia as major crypto exchanges are blocking IP addresses or Russian users. For instance, Yonhap and Upbit are major South Korean exchanges that have blocked withdrawals from Russia-linked IP addresses as of March 3. Others include Gopax, Bithumb, and Korbit who have restricted access to platform accounts from Russian IP addresses.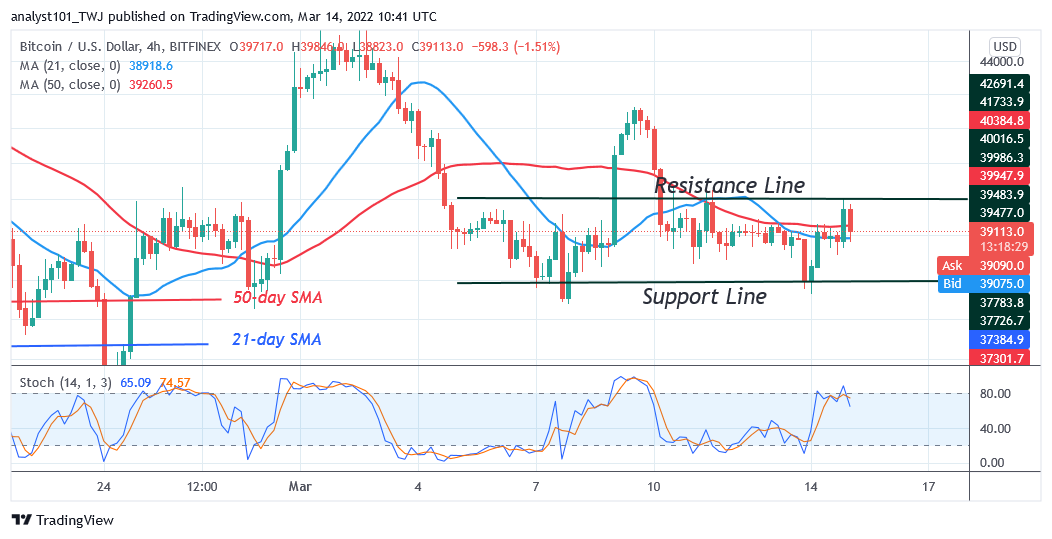 Meanwhile, Bitcoin has continued to decline as Bitcoin remains above $38K. BTC/USD is fluctuating between $37,200 and $40,000 price level. BTC price is likely to decline to $37,000 low. Bitcoin risks further decline below the $37,000 price level.

Looking to buy or trade Bitcoin (BTC) now? Invest at eToro!
68% of retail investor accounts lose money when trading CFDs with this provider
Read more:•                  How to buy cryptocurrency•                  How to buy Bitcoin